The Begra Story
Car and Driver magazine - April 1961
---
A race car that is low in cost but high in performance is news. That's why we stopped the presses to bring you...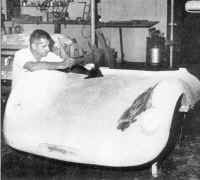 The Begra Story
by Bryan Webb
Co-builder Gene Beach - The Be in Begra - works on plaster mold for nose of the Sebring-bound Mark II

In Florida, a state known for beauty queens, guided missiles, mosquitos, and an annual 12-hour endurance orgy, something new has been added. It is a racing car weighing in at 630 pounds soaking wet. which has gone from a bundle of parts to a Sebring entry in less than two years.
The Begra (pronounced Bay-Gruh) was sixteen months aborning but the results have proven to be worth the trials and tribulations of the two "fathers", Gene Beach of Clearwater and Henry Grady of Miami.
The car grew out of the old saw "If you can't buy what you'd like to race, go out and build it." The project began early in 1959, when Grady was working in the Clearwater area, but he took a job forming a foreign car parts distributorship in Miami while Gene Beach remained behind plying his trade as architect Months before actual work began the two spent long hours discussing the assets and costs of the engines, components, and running gear available for building a 750 cc H Modified car. They finally settled on a Fiat 600 sedan which they purchased from a nearby dealer.
They welded their space frame from one-inch-square mild steel tubing and to this basic platform attached the steering and suspension components from the "600". Beach fashioned the steering wheel from aluminum and teak, and fitted its steering column with small airplane-type universal joints. Koni shocks were installed all around to stiffen the suspension. Little more was done in these areas until actual racing experience proved that further modifications were necessary.
When the car had been finished as far as belly pan, suspension, engine and transmission installation they towed it to Miami looking for all the world like an overgrown Go Kart. Henry then took the Begra to the home garage of now-defunct Camoradi, U.S.A. and set tip the chassis and wheel alignment. What resulted was a car which mechanic-driver Lee Lilley, 10th-place winner at LeMans last year, calls "knock-kneed, bow-legged, pigeon-toed, and slew-footed ... but it works!"
In Miami Henry began work on the first little engine With a micrometer and the parts house at his disposal he produced some interesting, if not quite Abarth, modifications on the Fiat 600's prime mover.
Meanwhile Gene had been working steadily on the all-aluminurn body, pounding most of it out over an old stump in his back yard. To this degree it can be called a "backyard special." However, Gene's coffee-making wife Lil insists that it's a "two-car garage special." The gas tank was made from the aluminum sheeting (of a size that Lil called "0-2-thin") of which the body and belly pan were formed. Finally the chassis and engine were towed back to Clearwater and fitted with the hood and rear decking one week before its race debut!
| | | |
| --- | --- | --- |
| | | Prototype Begra was bodied in aluminum and used low-mounted headlights. Windshield was one inch shy of meeting F.I.A. rules for sports cars. |
This first outing was at the twisty 2.7-mile course near Cocoa in April of 1960. Gene picked up Team Begra's first victory with a class win in the ten-lap event for Triumphs, Porsches, MGAs, Alfa Normals and the like. He also finished third overall in a field of 33 cars, being bested only by two Porsche 1600 Supers. Further class wins were notched up in two big meets at the Daytona road course.
At mid-season a test on an accelerometer in Miami made it painfully evident that future Begras - if they were to challenge OSCAs and Fiat Bialberos - would have to produce more horsepower. A little over 40 bhp was just not going to cut the mustard! With this thought in mind the prototype was sold to novice Jerry Morgan (novice or not, Jerry on two successive weekends, took his new purchase to two class wins and a third and fifth overall) while the decks were cleared for production of a Saab G.T.-powered version.
The decision to use a Saab engine was initially based on the need for more horsepower, with economy a strong secondary factor. A wrecked Saab was bought, and the work on the block started to bring its normal 38-bhp engine up to G.T. specs and power. The head was altered to raise the compression ratio. Finally a stroke of luck came when the Saab distributors in Jacksonville, after seeing the Begra race, agreed to provide a G.T. crankshaft for the new engine. This raises the compression in the lower case and provides more efficient fuel mixture induction into the combustion chambers.
An adapter plate was fashioned so the engine could be bolted to the Fiat 600 transmission-differential unit. The outer edge of the Saab flywheel was planed off at 20 degrees so that it would fit inside the bell housing. They decided to retain the Fichtel and Sachs clutch unit from the Saab because of its beefier dimensions. To wed the Fiat's mainshaft splines to the Saab unit, a center section from Import Motor Parts' stock of Fiat driven discs was fitted with the larger outer-driven surface and the initial steps of installation were completed.
| | | |
| --- | --- | --- |
| | | Fiat-based engine mated well with 600 sedan rear suspension. Relationship of coil springs, drive shafts and A-arms remained almost stock. |
| | | More power -better than 57 bhp-will come from Saab engine. |
In the original Saab installation the engine slants at a goodly angle. The same power plant, when used in the Begra sits bolt upright. This naturally required a few changes. An intake manifold was cast so that the Solex 44 PII carb would also sit upright, while motor mounts from a Renault 4 CV were adapted to the Begra frame and the new three-cylinder engine. Races at Daytona soon showed that the engine, although it put out more horsepower and torque than the former pushrod unit, broke up at varying rpm and seemed unpredictable as to just where the power was going to come in.
Everything possible was done in an effort to tune that two-stroke but seemingly to no avail. An onlooker suggested that they unhook the electric tachometer which is fed by the distributor. "After all, Martin Tanner doesn't use one. Maybe there's a reason." This was done, the car fired up and blasted off, its exhaust note clean and clear!
When Henry returned there was again a smile on his face. "That's it! By golly, that's what was ruining it! Now it really goes." Evidently the tach had been draining current or forming a resistance in the primary circuit for now the Saab sounded as it should.
| | | |
| --- | --- | --- |
| | | Angular appointments of Begra's cockpit point up simple, direct approach to race car design. Body had to be altered to incorporate F.I.A. doors. |
Probably the highest compliment that can be paid a car of this type is for it to be accepted by the directors of an international event. The Twelve Hours of Sebring is such a race, and director Alec Ulmann has accepted a Saab-powered Begra as an entrant in the March 25 contest.
The car will run in Sports Category "C" as a prototype American racing car, and with its 750 cc displacement will be vying with the long-successful OSCAs and D.B.s. John Bentley has been approached to drive the car at Sebring. As team driver Mr. Bentley would bring with him probably more knowledge concerning the Sebring event than any other driver. This will be his eighth year at the Twelve Hours, in about as many different automobiles. Last year Bentley won the Index of Performance driving an OSCA (SCI, August, 1960) .
What makes this car a success is hard to determine. Its handling appears on a par with anything racing today. Its lightness is a contributing factor to its acceleration and the Begra-Saab's small frontal area adds speed on long straights. But more than this is the Yankee ingenuity that has gone into the car's construction. Built on a "nothing down, pay as you race" basis, the car will be up against Europe's best at Sebring, and it will be good to see it in action. Not since Briggs Cunningham built his famous sports-racers in Palm Beach has a postwar American racing car gone so far so quickly.
Beach and Grady are dedicated to the little car. Perhaps this is the answer.