Begra Magazine Articles
---
VINTAGE MOTORSPORT 1991
BEGRA - In 1958, Gene Beach (who was running a Crosley-powered H-Mod Special at the time) and Henry Grady (strictly interested in being a race driver at the time) decided to build a rear-engined H-Mod car. It would be called the BE (for Beach) and GRA (for Grady). They bought (rather financed) a brand new Fiat 600 sedan, stripped it down completely, turned it upside down, built a jig to locate the chassis mounting and suspension points and fashioned a the sis around the jig. They hammered piece of aluminum over an oak tree stump and sand bags and welded it into a body to cover the tubular space frame. The Fiat engine was bored out to 722 cc and was heavily breathed upon, including a camshaft from the then unknown Harvey Crane.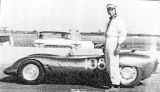 The enterprising pair sold the body and bits they didn't use back to the same Fiat dealer but didn't tell him the bits were from the car that the dealer himself had financed.' Grady remembers that the pair raced the car for one and a half years in the South with very successful results, including beating class king Ollie Schmidt's rapid OSCA. The pair believes the Begra was the first rear-engined H-Mod car.
Henry Grady now runs a vintage race here and there in a "killer" 1275 cc MG Midget, and Gene Beach, an architect who went on to build Beach race cars, is getting the "bug" again as he's restoring a Beach Formula Ford for himself.
---
VINTAGE MOTORSPORT May/June 1993 page 34
BEGRA by John Gardner ( photos courtesy Gene Beach)

1961 Begra Mk II Sebring entry
with Gene Beach (left)

and Henry Grady


Beach & Begra III at Daytona, 1962



Begra Mk I at Daytona, September 1960


Begra Mk III rolling chassis
(George Avent car)
The last time our series took us to Florida, it was 1955 (VM 92.6) and Briggs Cunningham was building the C-6R in West Palm Beach. In 1959 Florida played host to another Special­building effort, but one smaller in both scale and displacement.

Henry Grady and Gene Beach were racing friends who were active in the SCCA club racing scene and, like so many of the brave and innovative builders we've profiled, decided to try their hand(s) at beating the "big guys" at their own game. The trouble was, Henry lived in Miami and Gene lived 300 miles to the northwest in Clearwater. The solution: Henry, an auto parts dealer, did all the engine work while Gene, an architect, de­signed and built the chassis and body.

They started by purchasing a Fiat 600 sedan, and immediately pulled the engine and tipped the car over on its side, stripping it of all running gear, controls, battery and other usable parts. They used the stripped chassis to fabricate their own jig, mounting steel plates to the chassis mounting points and connecting them with a framework of conduit.

This left them with a workable jig to build a space frame, based on stock Fiat geometry, and with a complete Fiat 600 body to sell back to the origi­nal dealer. Beach hammered out a new aluminum body over an oak tree stump and sandbags, while Grady modified the stock Fiat engine, boring it out to 748cc and installing oversize Hillman pistons and a camshaft from then-unknown Harvey Crane. The re­sult, finished in early 1960, was an 800-pound, 40-hp H Mod Begra (BEach/GRAdy) Special, one of the first-ever rear-engined H Mods, which Beach drove to a class win in its first outing at Cocoa Beach in April.

Despite additional class wins that season, Beach and Grady knew that more success would depend on more power. The Begra Mk 1 (as it would eventually be known) was sold to novice racer Jerry Morgan, who was convinced to allow Beach and Grady to install a Saab three-cylinder engine. Unfortunately, the popular Saab 750GT powerplant was unavailable, so they did what they thought was the next best thing: they tried to modify a stock Saab engine to GT specifica­tions. Using a friend's Saab GT as a pattern, they modified the head and ob­tained a hard-to-get Saab GT crankshaft. Then came the job of mat­ing the front-wheel-drive Saab engine to their rear-wheel-drive Fiat-based chassis, which necessitated fabricating an adaptor plate and driven disc and

modifying the Saab flywheel. The en­gine was installed vertically instead of the normal slanted Saab configuration, and this required motor mounts from a Renault 4CV and fabrication of a new exhaust manifold to enable the twin­throat Solex carburetor to be mounted in a level position.

The result was a noticeably faster Begra, but one troubled by an intermit­tent engine miss. At the car's first outing in the Daytona SCCA nationals in September 1960, the Begra qualified 12th but took the lead coming out of the first turn. That only lasted for about a third of a lap. Months were spent tuning the engine to no avail until, one day, an onlooker suggested unhooking the electric tachometer. "After all, Martin Tanner doesn't use one. Maybe there's a reason," they were told. As it turned out, the electric tach was shorting out the ignition sys­tem, and thereafter the car ran fine.

In December 1960, Grady and Beach were approached about building a Saab-powered Begra for veteran racer John Bentley to run in the 1961 12 Hours of Sebring. With only a little over two months until the race, this required eight weekends of frenzied thrashing, but the new Begra Mk 2 was ready in time, sporting a beefier frame, front suspension (Fiat 1100), brakes (Fiat Multipla) and two fuel tanks (17 gallons total capacity).

Saab had agreed to supply them with a 750GT engine, but it arrived late and ran badly. Saab had also agreed to send a representative to aid in tuning the engine, but he did not arrive until after the race was under­way. The car limped along and was retired after five hours.

Following Sebring, two new mid­engined Begra Mk 3s were built, one for John Norwood (which was also frequently driven by Beach) with Abarth twin-cam 750cc power, and one for George Avent sold without engine (but eventually also Abarth ­powered). Meanwhile, Grady converted the Mk 2 to Ford 105E (English Ford four-cylinder) power. Both Mk 3s and the Ford-powered Mk 2 continued to show impressively in their classes (the Mk 3s in H Mod, the Mk 2 now in G Mod).

Beach and Grady eventually went their separate ways. Beach went on to become a world-renowned constructor, building other H-Mods, becoming one of the first builders of Formula Vees and eventually fathering the Super Vee class (at the behest of the now-legendary Jo Hoppen) in addition to Formula Fords, Formula Bs and a Beach GT powered by a Ford 1,600cc twin-cam. His creations were driven by such drivers as Bruce McLaren and Chris Amon, and are still active in vintage racing today. Grady built a couple of other very successful H-Mods (Alfa and Honda-powered) and has stayed in the auto parts business in addition to being a long-time vintage racer. Beach is out of racing now, but still keeps an watchful eye on the engineering side of the sport from his architectural office in Tampa.

Until recently, little was known about the whereabouts of the original Begras. However, it has come to our attention that the first Begra Mk 3 (the Norwood car) has been in the possession of Ed Gavin of Yuba City, California since 1978. He raced it (equipped with a modified Fiat 850cc engine) with HMSA for about 10 years, and it is currently under restoration. We hope to see it racing again soon.
---
VINTAGE MOTORSPORT Sept/Oct 1993 page 9
BEGRA MEMORIES by Paul Kneeland

I bought a Begra Mk 1 (VM 93.3) in 1962 or 1963 from Floridian Jerry Morgan and brought it up to New Hampshire, where I lived. I raced the car two or three years and sold it to a man in upstate New York (a Mr. Glantz, I believe). The car was very fast but had a lot of reliability problems. The 750cc Saab engine the car came with blew on its first outing. I replaced it with an 850cc Saab built to specs given to me by the Saab factory. This engine produced so much power that it would blow off the gear teeth in the Fiat 600 gearbox. I corrected this problem by replacing the solid clutch disk with one with springs in it to help reduce the shock on the gears each time I shifted. The car came with an unfitted Beach front body section which I adapted to fit, as the original aluminum body was rather tired. I also used the original aluminum rear

body section as the basis for a plug to produce a mold for a fiberglass rear body.

I really enjoyed the car. I remember a divisional championship race at Marlboro in which I had gridded last due to various problems keeping me from qualifying. It was a fairly large field of H and G Production and H Modified cars. The power of the Saab engine was such that I was running second by the end of the first lap and closing on the lead Osca at a rapid rate. Unfortunately, a mechanical problem forced me out, as was commonly the case.

It's a shame that the day of Specials is over. Today's generation of racers is missing out on the fun of building and improving their own cars.
---