Begra Mk3 s/n 004
This car was originally shipped as a kit to Andy Anderson in the Kansas City area in 1962. He and Roger Hurst built it with a 948cc Sprite engine (destroked to 850cc), Fiat gearbox, and Fiat drum brakes. It was later owned by Bob McCollum and then Tom Newcomer. Ken Edwards drove it in 1967 while it was owned by McCollum. The next owner after Newcomer is unknown.
History working backward - A Begra Mk3 chassis turned up in Hawaii in 1988 and has been traced back to Gordon Hoobler in the 1970's- since all the other Mk3 chassis are accounted for, presumably this is Anderson's car. I don't have a definite connection yet or know who owned it in the midwest before it headed to the west coast with Gordon Hoobler. Hoobler's son thinks it came from the Chicago area and at that point was red with a Fiat engine and disk brakes. Please send me mail if you have anything to add.
New photos from Andy Anderson (2/05)
- note that this bodywork looks somewhat more like the early Beach Mk4 than other Mk3s - the rear wheels are faired over but there is no separate firewall section
Bob McCollum - circa 1965?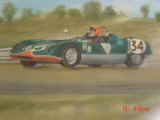 ---
Gordon Hoobler - Late 1970's - San Francisco area
---
Art Magallenes - 1988 - Hawaii
- After Hoobler it was owned by Dennis Shockey and then Ron Hoff before going to Magallenes