VIR - 1958 May - Qualifying Report & Photos
Virginia International Raceway - May 3-4, 1958
Danville Register - Sunday May 4, 1958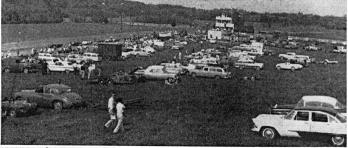 Top photo - A general view of activity throughout the paddock and pit area as mecahics and drivers check over their racers before moving onto the track.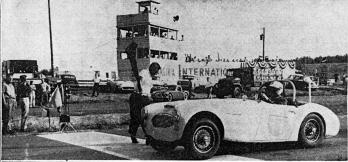 Middle photo - Chief Starter Jesse Coleman gives Dr. Dick Thompson of Washington, D.C., the "off flag" from the starting line as he begins his qualifying time trial in a Class DP Austin-Healey. Thompson was among the most popular of the drivers here in races staged last season. He will be driving car No. 11 today.


Bottom photo- Ed Crawford, driving car No. 61 - a Lister Jaguar - moved up fast to overhaul Duncan Black, No. 4, in a Ferrari during the time trials. Crawford turned in the fastest time of the day with an average of 76.932 around the 3.2-mile track from a dead start.
---

VIR To Present Its First Big Program Of 1958 Today
Four Races On Schedule First To Begin At 10 A.M.
Eddie Crawford Sets Fast Pace To Top Qualifiers
Eddie Crawford of Chicago took the pole position over his Jaguar teammate, Defending National Champion Walt Hansgen of Westville, N.J., in the highly contested time trials yesterday for the National Spring Sprint Sports Car Road Races set for Virginia International Raceway today.
Today's events begin at 10 a.m. with four races. In the afternoon the semifinal, expected to draw 45 cars, will begin at 1:15 p.m. While the feature will start at 3 p.m. with perfect racing weather predicted for the year's inaugural at this 3.2-mile road course.
Competition for the Jaguars was made certain yesterday in the practice runs and time trials which took up the entire day and attracted 3,000 sports car fans under a warm sun. However, Crawford captured the pole position with the new-type qualifying method. In previous VIR events, the cars were clocked during practice runs with a flying start, and Charley Wallace of Chevy Chase Md., holds that lap record at 2:26 minutes, an average of 79.58 m.p.h. Yesterday, however, they were timed from a dead start and Crawford's excellent run was 2:31, which is an average of 76.932 m.p.h.
He was closely followed by Hansgen, who spun out of his first trial and came back a half-hour later to qualify at 2:36.2.
Both were driving the new Lister Jaguars, while Wallace will be driving a brand new production car, the Jaguar XK-150, which is making its first competition appearance in this country. I
Back of them was Lance Reventlow of Beverly Hills, Calif., pushing the big monster of the competition, a specially built Corvette which he calls a Scarab. He stalled on the first start, but came back later to run 2:38, just ahead of the Porsche Spyder driven by Don Sesslar of Lancaster, Ohio, with 2.38.6.
However, timer Joe Lane had the clock on practice runs as well, and he recorded a new practice lap record for the treacherous course..
Carroll Shelby of Dallas, driving a 4.5 Maserati last August, had run 2:25 for the course. But today, Hansgen took a Lister Jaguar around in 2:24, which averages at 80.675 m.p.h. He was checked on a radar speed device at 128 m.p.h. near the end of the back straightaway.
It was Hansgen and Crawford swapping cars during the afternoon. Hansgen ran the No. 61 Lister for the 2:24 mark, but he qualified in the No. 60 Lister leaving the D-Jaguar in the pit. It is possible that he and Crawford may swap cars in the Jaguar team for the big race today since the New Jersey veteran is currently leading the 1958 national standings, although Crawford is not too far behind.
The official entry list shows a field of over 80 cars eligible to compete in the various races. In addition to those already mentioned the competition will be supplied by Lotus, Fairthorpes, Ferraris, Triumphs, Panhards, Porsches, Austin-Healeys, AC Bristols, Berkeleys, Elvas, MGAs, Mercedes Benz Coopers, Alfa-Romeos, Chevrolet ....