VIR - 1971 April IMSA - Race Report
Virginia International Raceway April 17-18, 1971
Competition Press & Autoweek May 8, 1971 - By Phil Allen
Gregg/Haywood Take IMSA GT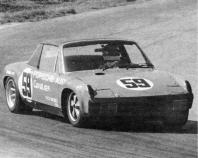 The Peter Gregg / Hurley Haywood Porsche 914/6 captured the Danville 300 for IMSA Grand Touring cars with the help of late-race pit stops by the leading Corvette of Dave Heinz. (Hal Crocker photo)
DANVILLE, Va., April 18 - Peter Gregg and Hurley Haywood, driving a Porsche 914/6, took advantage of an off-course excursion by the leading Corvette of Dave Heinz to post a two-lap margin of victory in today's Danville 300, first event in the new International Motor Sports Assn. Grand Touring series.
The race, billed as a showdown between American horsepower and European handling, proved to be just that. Although the event was to be the debut of American subcompacts, Chevrolet's Vega and Ford's Pinto, neither of the two marques made an appearance here this weekend.
But even without the debut of the new subcompacts, the race was marked with close competition. Never more than 10 seconds separated the Gregg/Haywood Porsche 914/6 and the Heinz Corvette. Pole-sitter Heinz slipped off course near the end of the 96-lap contest and had to pit for repair work to his left-front fender.
Heinz led more of the race but was never able to pull out a commanding lead over the determined Porsche challenge of Gregg, Ralph Meany's 914/6, and the Porsche 911 of Pete Harrison.
Heinz admitted after the race he had underestimated the physical demands of driving 300 miles over VIR's twisting 3.2-mile circuit without a co-driver.
Byron Morris and Clint Abernathy in an IMSA class B BMW placed sixth overall and first in class. Their broad smiles in the victory circle were probably due to the fact they won a total of $650 in a car that only last week was being driven to work and to the store.
Other class winners were Bob Hennig in a Javelin; Amos Johnson in an Opel and the George Alderman Datsun 510, the IMSA class A winner. An early favorite, Jim Locke in a Porsche 911, dropped out about midway in the race with an oil leak.
A field of 24 starters took the green flag before a crowd estimated at 10,000.
Twenty-year-old Dave Loring, driving a Caldwell, captured both heats of the VIR Sprints for IMSA International 100 Formula cars. Pre-race favorite Bill Scott, in a Royale, appeared to be a runaway winner in yesterday's first heat until a broken piston forced him to retire giving the victory to Loring. Nils Sanborn's Lola finished second and third respectively in the two formula car heats.
DANVILLE 300, INTERNATIONAL MOTOR SPORTS ASSN., VIRGINIA INTERNATIONAL RACEWAY, DANVILLE, VA ., APRIL 18
TOP 10: 1 Peter Gregg/Hurley Haywood, Porsche 914/6 (lst under 2.5 liter GT); 2 - Dave Heinz, Corvette (lst over 2.5 liter GT); 3 - Ralph Meany, Porsche 914/6; 4 - Pete Harrison, Porsche 911; 5 - Jack Rabold, Porsche 911; 6 - Byron Morris/Clint Abernathy, BMW (lst IMSA Class B sedan); 7 George Alderman, Datsun 510 (1st IMSA Class A sedan); 8 -Hugh Heishman, Audi; 9 - Ron Lockhart Datsun 510; 10 - Clark Stimson, Fiat.