Beach Mk 4 sales sheet - 1963?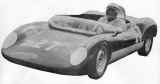 BASIC PRICE $1395.00
MODIFIED RACING ON A BUDGET. AN INEXPENSIVE KIT FOR GM AND HM RACING. MOUNTS MOST SATISFACTORY ENGINES AND FIAT 600 GEAR BOX INVERTED. DESIGNED BY EUGENE BEACH AND PROVED THROUGH YEARS OF RACING DEVELOPMENT.
SPECIFICATIONS:
Wheel base 88";
Overall length 134";
Track 48";
Weight 650 to 850 lbs., depending on engine and wheels fitted;
Height 27".
KIT INCLUDES:
16 x 18 gauge mild steel tube space frame, primed and finished in gray. All attachment points for suspension; steering; engine; transmission, body etc. included.
Aluminum sheet metal floor pans; rocker panels, firewall, etc. installed on frame.
Suspension components cadmium plated; "A" frames for Triumph Herald uprights front, upper and lower lateral and trailing arms, hub carriers (Fiat 600 bearings) rear. Shock coils furnished for springing. All suspension components bushed etc., ready for installation.
Body shells and doors Fiberglas, trimmed but unpainted.
Controls: Brake, clutch and throttle pedals; hand brake etc.
Complete assembly drawings and instructions as well as optional parts lists furnished with each kit.
CONTACT: competition components, inc. 1864 drew st. clearwater, florida or your nearest Beach Racing Car Dealer