Vintage Hi-Fi Gear
---
Keywords - stereo, hi-fi, audio, amplifier, kit, vintage , unbuilt, JBL
---
Hi-Fi Kits
It is amazing how many manufacturers made kit gear in the late 50's and early 60's.
Heath, Eico, and Knight were well known manufacturers of kits of audio, ham radio, and test equipment. Dynaco, Fisher, Scott, Harmon-Kardon, and even McIntosh also had equipment available in kit form.
---
Here is a sampling of unbuilt vintage kits that have shown up for sale in recent years - Don't you wish you could still order these from Heath, Dynaco, Allied, Eico, etc.??
No, I don't have any of these for sale - most of the photos were taken off eBay and are just posted here for your viewing pleasure!
---
JBL - Of course you can't use vintage amps without vintage speakers -
Someone sent me this photo of a JBL C-60 Sovereign (same as C-50 Olympus except for woodwork) with the S8R speaker system - LE15A woofer, PR15 passive radiator, 375/HL93 midrange horn, 075 ring radiator tweeter, LX5 and N7000 crossovers. (and a couple of Mac MC-60's to top them off!)
Heathkit Hi-Fi - I like the looks of this series of gear from Heathkit - reminds me of 1959 Chevy styling - with plastic knobs, tan leatherette case, et. Click here for a list and more info on this series. List of "1959 Chevy Styling" Heath Hi-Fi Gear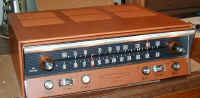 ---
Interesting Links
---
Last modified: 12 Mar 2017
nick@virhistory.com
Nick England - home page