VIR - October 1957 Qualifying - Newspaper Report
Virginia International Raceway - October 26-27, 1957
Danville Register, Sunday October 27, 1957
President's Cup To Feature V.I.R. Program Today
Four Events Will Comprise Seven Hours Of Speed Tests
New Records Set In Yesterday's Qualifying Trials
Three members of the Briggs Cunningham D-Type Jaguar team from New England broke the old course record at Virginia International Raceway, located 11 miles east of here and just outside of Milton, N.C., in the qualifying speed trials yesterday for the two and one-half hour endurance run for the President's Cup, featured event at VIR's National Championship Grand Prix event today.
Charlie Wallace, the speedster from Chevy Chase, Md., took his white D-Jag around the rolling road course which includes twelve major turns, two blistering straight-aways, up grades and down grades within its 3.2-mile distance, in 2:26.2 minutes to claim the pole position. Wallace's average was 79.58 miles per hour, beating the old mark set at the VIR inaugural in August by Walt Hansgen at 2:27.2 or 78.2 mph.
Ed Crawford of Chicago was timed at 2:26.4 and Hansgen, who is from Westfield, N.J., turned in a 2:26.8 for third best time. This latter mark was also equalled by Wallace in a Porsche in an earlier time trial. John Kilborn of Decatur, Ill., driving a Ferrari, placed fifth at 2:30.4 while Dr. Dick Thompson of Washington, D.C., in a Jaguar-XKSS was sixth at 2:32.8.
Sports Car Club of America (SCCA) officials predicted a wide-open battle among the 23 of the nation's fastest foreign sports cars for the President's Cup, the most coveted award of the year which was inaugurated in 1953 by President Eisenhower.
The official presentation of the cup will be made Tuesday at the White House.
A total of 93 entries qualified yesterday for today's four-race program. The opening race, for F and G production and H sports cars, will begin at 10 a.m and will be a 45-minute test. Race No. 2, for D and E production, starts at 11 a.m. and will last one hour. Race No. 3 will get under way at 12:30 for B and C production and G sports, and will keep the track busy for one and a half hours. The featured contest start's at 2:30 and trophy presentations follow between 5 and 6 o'clock.
Several thousand fans turned out to watch the practice runs despite the cool and windy weather. They saw one major accident, which occurred on the series of curves just before reaching the overhead bridge on the back side of the track when Dr. Henry C. Schwartz, Jr. flipped his AC Bristol at 100.5 MPH. The car was wrecked and will not be able to compete today, but the driver came out safely.
Hansgen, rated the favorite on the basis of his victories in the last two national races at Watkins Glen, N.Y., and Bridgehampton N.Y., developed his own headaches late in the after-noon. The rear axle on his D-Jag was broken and the Cunningham mechanical crew was busy last night working and should have the car ready for the big race today.
Several national championships will be at stake today and barring unfavorable weather a crowd of more than 20,000 is expected for the endurance competition. Nearly a million dollars worth of foreign sports cars will be competing in the four races.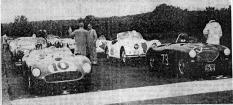 click on photos for larger versions
First photo - Some of the really fast sports cars that will compete to today at the V. I. R. in the President's Cup race, are shown as they lined up for their time trial runs and yesterday's fourth practice race. A total of 23 qualified for the big two and one-half hour endurance test that will feature today's program.
[10 - Kilborn - Ferrari, 73 - Fred Moore - AH, 88 - George Bisler - Jag XK-140MC]
Second photo-The cars speed around the treacherous series of curves just after hitting on the back side of the track and just before reaching the spot where Dr. Schwartz of South Orange, N.J., flipped his AC Bristol over at a fast clip, wrecking the car. Dr. Schwartz survived the wash without serious injury.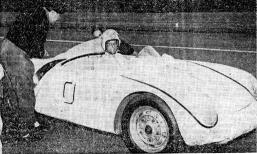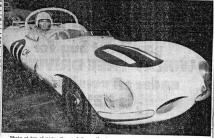 click on photos for larger versions
Third photo - Charlie Wallace pulls into the pit stop just after setting a fast time of 2:26.8 in No. 0, a Porsche. Later Wallace came back to top the field in a D-Jag with a new qualifying time record of 2:26.2 to gain the pole position in today's big race.
Fourth photo - Dr. Dick Thompson of Washington, D.C., was sixth in the qualifying with a time of 2:32.8 in his Jag-XKSS and will be a big favorite because of his victory runs at the VIR during the August races.
<![if !vml]>

<![endif]>
please send me e-mail  with any additional info on this or any other VIR race