VIR - 1962 April - Race Report & Photos - Newspaper article
Virginia International Raceway - April 28-29, 1962
The Bee: Danville Va., Monday, April 30, 1962
They're Off and Running On VIR Track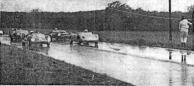 Chief Starter Tex Hopkins leaps high with the flag to get the President's Cup sports car race under way yesterday at the Virginia International Raceway, as shown in the top photo. The front row cars are piloted by Roger Penske, the ultimate winner, and Bob Holbert, who finally ended in second place.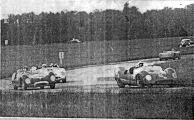 In the second photo, taken as the race neared its end, shows Penske (car 6D) leading a group through the turns. The white car partially hidden behind car No.22, at left, is last year's winner, Walt Hansgen, fighting vainly to regain the lead. Although he is (in the photo) ahead of Bob Holbert, shown at the right entering the turn, Hansgen was actually a lap behind Penske and Holbert.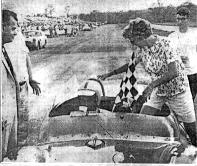 Penske sips a cool drink after getting the checkered flag and Mrs. Penske climbs into the car to congratulate her husband.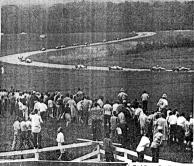 The next to bottom photo shows some of the crowd of spectators as they watch a number of the potent Formula cars sweep past.


In the bottom photo, an unidentified Corvette joins the dozens or so other autos which spun out of the race on one of the "dangerous dozen."
---
Roger Penske Wins President's Cup Auto Race
Pennsylvanian Commands Field In Piloting Telar-Cooper Car
Roger Penske of Bryn Mawr., Pa., won the President's Cup sports car race here yesterday in a ding-dong duel with Bob Holbert of Warrington, Pa.
Penske, who'd won the prestigious cup race two years ago at Marlboro, Md., gunned his D-modified Telar-Cooper to the finish of the 2-1/2 hour grind a scant 100 feet ahead of Holbert's E--modified Porsche RG61.
The race was cut to 2-1/2 hours from the originally scheduled three hours because of the tight racing schedule over the 3 3.2-mile Virginia International Raceway course, and for the first half hour was plagued by heavy rain. Times were extremely slow.
Walter Hansgen, at the wheel of a Cooper Maserati owned by Briggs Cunningham, led for the first hour of the race but fell two laps behind when his car developed engine trouble. He made up ground quickly and was in the same lap with Penske and Holbert at the end, but lacked the time to do better than third place. Arthur Tweedale of Arlington, Va., driving an Elva MK5, was fourth.
Others in the overall first ten finishers were: 5. Bob Bucher, Binghamton, N.Y., Porsche RSK; 6. Joe Buzzette, Northport, N.Y., Porsche RSK; 7. Tom Terrill Jr., LaGrange, Ill., Lotus 11; 8. Ben Warren, former Danville native and now living at Mebane, N.C., Elva MK6; 9. John Todd, Pluckemin, N.J., Warwick 350, the lone sedan model which looked like a good bet during the heavy rain as he breezed around the track with lights on, windshield wiper going at full speed and apparently quite cozy with his added protection against the elements his rivals were battling; 10. Charles Beckley, Washington, D.C., Elva III.
A total of 20 cars started the featured race and 17 were still at the finish - or 16 to be correct. However, Car No. 79, a, Buick-Mustang Class C-modified and driven by Bob Colombosian of Cambridge, Mass., stopped some 70 yards short of the finish line. Colombosian, complying with a rule that all cars must cross the finish line and receive the checkered flag to qualify as completing the race - regardless of laps behind - pushed his car the remaining distance alone. He received a big hand from the spectators as he was given the flag with special emphasis by official starter Tex Hopkins, a veteran who is tops in the business.
The big race was started in a light rain and before several laps were completed the rain was so heavy that cars could hardly be seen for any distance. The early pattern looked quite familiar to regular VIR fans with Hansgen out front, followed by Penske and Holbert.
When Hansgen developed engine trouble and was forced into the pits long enough to allow both Holbert and Penske to gain two full laps margin, Penske overhauled Holbert just as Hansgen made his return to the field and gamely held on to win the race.
Two drivers capable of adding, additional keen competition to the, field did not make the finals. Dick Thompson who was to drive the other half of the Cunningham entry - a Cooper-Buick - was forced out when the car was not ready in time after burning a bearing in the Saturday time trials. Also Bob Grossman, who piloted his red Ferrari Berl at a terrific pace and was pushing Thompson for the lead throughout the fourth race, did not compete.
Actually, Grossman passed Thompson late in the fourth race and many of the fans thought he was going to win. However, it later developed that he did so while the race was being run under the caution flag - a rule violation - and he was flagged from the track by Hopkins when the error was discovered.
When Grossman returned to the pit area, his car was leaking either oil or water, but this was not the reason for quitting what had been the best two-car race of the day up until this time. Grossman left the pit area a short time later and headed home, with his No. 9 running quite smoothly.
While there were a number of spin-outs scattered throughout the day-long program, drivers managed to escape without any serious injuries.
A total of 29 cars competed in the opening race; 25 in the second; 15 in the third; 24 in the fourth and 20 in the final for a grand total of 113. There were over 160 entries filed with the Washington, D.C. Region, SCAA, which sanctioned the annual event and was co-sponsored by the Danville Civil Air Patrol.
While the first three winners in each race received silver trophies for their performances, the President's Cup inaugurated by President Eisenhower in 1954 will be presented to Penske today in Washington, D.C. at the Pentagon by Gen. Curtis LeMay, chief of staff for the Air Force, on behalf of President Kennedy.
The winner has his name engraved on the huge silver bowl, the date of the race, track location and the name of the person making the presentation. Later, it is returned to the SCCA for safe-keeping until the next year. However, Penske received a miniature reproduction of the prized trophy and also another piece of silver for finishing second in the third race.
No cash awards are made and drivers and owners compete strictly for beautiful silver trophies. The large field here represented 20 different states, plus the District of Columbia.
Despite the rain, which chased fans back and forth to their cars at regular intervals - and completely soaked others who apparently didn't mind - an estimated 10,000 attended.
The CAP, assisted by other National Guard units, special officers, county and state police, were credited with doing a good job in the handling of traffic. Because of the one-road entrance to the infield, which has to be blocked off during a race, traffic has been the big headache and reason for chief complaint at VIR.
The results of the other four races were: (All 15 laps).
Race No. 1. Class F, G, H, productions and H-modified - 1. Don Sesslar, Sunbeam F1; 2. Charles Cantwell, MGA F2; 3. Jack Crusoe, Alfa G1; 4. Howard Hanna, DB F3; 5. John Jordan, OSCA H-modified; 6. Bill Terrell, MGA F4; 7. Skip Barber, Turner-Alex F5; 8. Peter Van Der Vate, Sprite G2; 9. Dick Haselton, Alfa G3; 10. Lynn Blanchard, Alfa G4.
Race No. 2, Class D and E production - 1. Eric Manglesen, Alfa D1; 2. Reed Rollo, Alfa D2; 3. Herbert Everett, Porsche D3; 4. Pete Winberg, Alfa D4; 5. C. Caldwell, Porsche D5; 6. Bob Tullius, TR-3 E1; 7. William Gurne, TR-4 E2; 8. Ed Diehl, TR-3 E3; 9. Jay Signore, Elva Courier E4; 10. Joe Tomita, Austin-Healey E5.
Race No. 3, Class Formula and Junior Formula - 1. Walt Hansgen, Cooper-Maserati Jr. 1; 2. Roger Penske, Cooper Jr. 2; 3. Floyd Aaskov, Lotus Jr. 3; 4. Dick Gaul, Scorpion Jr. 4; 5. W. G. Dunn, BMC Jr. 5; 6. John Field, Cooper, FJ1; 7. Rowland Oliver, Cooper MK II; 8. Dick Hayes, Isis FJ; 9. E. J. Stevens, Cooper F3; 10. D. Auray, Cooper Fr. 3.
Race No. 4, Class A. B and C productions - 1. Dick Thompson; Corvette AP; 2. Ben Moore, Corvette AP; 3. Dick Lang, Corvette AP; 4. Don Yenko, Corvette BP; 5. Robert Brown, Corvette AP; 6. Bruce Jennings, Porsche BP; 7. Roy Kumnick, Corvette AP; 8. Grady Davis, Corvette BP-; 9. D. Clark. Lotus Sunbeam CP; 10. R. McCain, Morgan CP.
Winners of previous President Cup Races:
1954-Bill Spears, won at Andrews A.F.B., Washington, D.C.
1955--Sherwood Johnson, won at Fairchild Field, Md.
1956-No race.
1957-Walter Hansgen and Charlie Wallace, won at VIR.
1958-Walter Hansgen, won at Upper Marlboro, Md.
1959-Don Sesslar, won at Upper Marlboro, Md.
1960-Roger Penske, won at Upper Marlboro, Md.
1961-Walter Hansgen, won at VIR.
---