VIR April 1963 Race Report
SCCA Sports Car Magazine
please send me e-mail with any additional info on this or any other VIR race
N.C. National at V.I.R.
by Frances Walker; photograph by Myers Walker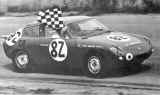 Paul Richards, Fiat Abarth 1000, on his victory lap after winning the G, D, EP race.
THE NORTH CAROLINA Region held its first National race on April 27-28 at Virginia International Raceway near Danville, Va. If driver enthusiasm and paid attendance are valid criteria it was a highly successful race weekend, unmarred by driver protests.
Once you get into VIR it's one of the better tracks in the country until you start trying to get out. The one road leading to the track is two miles of potholes, either dust or mud, this time dust. Almost .all tile parking area is within the 3.2 mile, roughly triangular track, and there is no vehicle bridge. This situation necessitates <t somewhat looser race schedule than is desirable; it's imperative to let the paying customer in. On Saturday, the ideal of continuous open practice, while aimed for, can never be obtained, as the late-coming competitor fuming outside the gate will bear witness. Once through registration and across the track the fun begins. Tech inspection moves smoothly; pit area is tremendous; practice is ample and nearly continuous; and grid positions acre strictly by qualifying times. What could make a driver happier?
Having no precedents to follow, the N. C. Region decided to set a few. The feature race was designated the Tarheel Challenge Cup, for classes A and B Production and C through F Modified the major trophy to go to the class winner having the greatest time margin over his nearest contender. The object was to attract more entries from the smaller displacement classes, since all cars entered would have an equal chance to win. The sponsors, the Danville Squadron of the Civil Air Patrol, not to be outdone, also offered for the first time the VIR National Cup for the overall winner of the feature. Silver was abundant.
The value of mixing the production and modified cars is still debatable: driver questionnaires received to date show mixed reactions. From a spectator's viewpoint, it was a hecek of a lot of fun. Not only was there a chance to compare the Sting Rays and the Cobras-the going thing this year-but also the production Corvette and the Gran Sport prototype.
The grid was interesting, no-startling. Here certainly is good support for the argument that driver ability is at least as important as brute cc's. Skip Barber's Lotus 23, one of the two F Modified cars entered, gained the pole position with a practice lap of 2:22.0. Sharing the front row was the AC; Cobra of Bob Johnson, only 0.7 seconds slower. The second row held Don Devine (Scarab) and Bob Holbert ill another Cobra. Next came Joe Buzzetta driving his Porsche-based EM Bosch Special and Dick Thompson, the first of the Sting Ray contingent in an AP version. Then Ed Lowther, switched just before race time from a Lister to Grady Davis's Corvette Gran Sport (aluminum Sting Ray), and so on down through the field of assorted Corvettes, old and new, Porsches, modified and Carrera, an Apache, a Ferrari 250 GT, and the like to those unfortunates who for one reason or another had no qualifying times and were struck to the rear. The host interesting of these was the Chaparral of the Meister Brauser racing team with Harry Heuer aboard.
Watching Heuer work his way upward from 22nd in a field of 25 was at least half the race. By the end of the first lap he stood 15th; at the end of the second 11th, and so on until he reached 2nd place in the 20th lap of this 90-minute race. From then until the flag fell at the end of 38 laps he futilely chased his teammate Don Devise who had grabbed first before the first corner and never let up for a moment, driving a faultless race, consistent and controlled from flag to flag.
The other half of the race, for those who couldn't tell a Scarab from a Chaparral, was between the Cobra and the Sting Rays for A Production. Chiefly, this was between Bob Johnson (CObra) and Dick Thompson (Sting Ray) with a good dash of Ed Lowther thrown in to confuse the issue. (Bob Holbert's Cobra threw a fan belt on lap 3 and by the time it had been repaired he was out of serious contention.)
It was Cobra, Sting Ray, Gran Sport until lap 13 when the Sting Bay began to lose ground, and it looked like no contest between the AP portion of this threesome until Johnson's Cobra blew a tire on the back straight in the 33rd lap. Quick pit work was not enough and Thompson streaked past to take over first in AP. Minutes later, Johnson was in the pits again to check smoke in the right rear tire-exhaust region. Nothing serious; and he continued almost instantly. The race time remaining just wasn't sufficient to catch up and Johnson finished 7th overall to Thompson's 6th for 2nd and 1st in AP. Grady Davis, driving another Sting Ray, was right behind for 3rd in AP (8th overall).
It was interesting to compare the Gran Sport Corvette with the production Sting Rays. During the first third of the race they looked fairly evenly matched with the Gran Sport running just behind the leading Sting Ray, but as time wore on Lowther pulled slowly away from the production pack to finish 4th overall, 3rd in C Modified, and what would have been 1st in A Production if Chevrolet had only made 97 more cars like this one.
Third overall went to Skip Barber (Lotus 23), who was never lower than 4th, driving an excellent race to win a combined class of EM and FM in an F modified car. Joe Buzzetta placed the Bosch Special 5th overall and 1st of the two EM cars running.
Down in 9th overall was Don Yenko in his old reliable BP Corvette, winning B Production and to his great surprise the Tarheel Challenge Cup by virtue of being a full lap plus ahead oŁ Bob Mouat's 2nd place BP Corvette.
The first race of the day, for F, G and H production and H modified cars was by far the most thrilling, featuring one of those tenacious see-saw battles for first place that you seem to read about but never see. Jack Crusoe took an early lead in his Alfa but Art Riley's Volvo P1800 grabbed it away in lap 4. Crusoe settled right on Art's tail and Art obligingly pulled him around for three laps until Jack took over again. And so it went, back and forth, with only the slightest margin between the two cars, until the flag when it was Crusoe by two seconds for first overall and first in F Production, Riley second, and Sherman Decker in an MCA placed 3rd in F Production and 4th overall.
Pete Van der Vate (Sprite) drove his normally spectacular race to take first in GP with no problem, incidentally besting most of the FP cars to place 3rd overall in the bargain.
H production went to Paul Hill, also in a Sprite-this one all the way from Vegas-with J. G. Bebee's Fiat Abartb second. W. C. Greer took H modified in a Zink Petite Mark 2-all the way from Tennessee.
Paul Richards got his Fiat Abarth I000 off the grid first and that settled the CP question for the duration. Duncan Black (Daimler 250) likewise was never seriously challenged for 2nd in CP and overall. 3rd was Al Roger's Morgan Super.
The real hero of this race was Bob Tullius, in his usual fine form. Placed dead last in a field of thirty because his TR-4 had the bad luck to blow a piston before qualifying, Tullius' crew had performed one miracle in getting his car back together and then he proceeded to work another in struggling up through the pack to take over 1st in D Production (5th overall) when Dana Kellner's leading TR-4 DNFed some three laps before the flag. Triumph's TR-4s made a clean sweep of DP with Harvey Marks taking 2nd and Jim Spencer 3rd.
The Honeysuckle Strikes Again!
The third race almost looked like one of Marlboro's famous novelty features. First came six Formula juniors, wait a moment, then I0 G Modifieds, wait again, and finally four Formula III's. That's what is known as making a starter work for his pay! It looked like it was going to be John Henderson (Lotus 22) in the junior division and Doe Wyllie (Lola) in GM until the unlucky 13th lap; then things began to happen fast. Henderson left the track at the Oak Tree, a 90° decreasing radius right-hander, rolled down the bank and became entangled in a honeysuckle patch. Unable to get out unaided, John watched while Charlie Hayes in an Elva junior took the lead.
Also on lap 13, Wyllie began to slow and pulled into the pits to let Peg take a look. Chuck Dietrich, driving the first race in the brand new Bobsy Special, and Art Tweedale (Lola) lost no time in passing Doe while he was in the pits. Try as he would there was too much time to make up and Wyllie had to settle for 3rd in G modified (4th overall) behind Chuck and Art. Formula III went to John Gadwa in a Cooper Mark XI.
Trophy presentation was the usual joyous affair, enhanced by the usual beauty queens and dignitaries. Don Yenko seemed to enjoy it especially, taking every opportunity to kiss the pretty girls.
please send me e-mail with any additional info on this or any other VIR race