A Lap at VIR
Virginia International Raceway History 1957-74
From the April 1965 SCCA National Race Program:
Virginia International Raceway was designed as one of America's outstanding and most challenging road racing courses, and over 3.2 miles it is exactly that. No road course in America offers the test to driver, mechanic and car . . . 12 treacherous turns, no two alike, with drops and climbs, with two all-out straightaways.
Down the 3,400-foot home straightaway, in front of the Pagoda, the VIR course rolls into Horseshoe Bend (1), a sharp U-turn that leads into an assortment of bends which precede the uphill battle. The lower chicane is tricky, and deceiving at high speeds, but it leads into the dangerous upper chicane (2) which rises nearly 100 feet over 3,500 feet of road.
Peak of the course is Boot Hill Bend (3), the sharpest turn at VIR, but this takes the route into the 3,738-foot straightaway that rolls into a 30-foot dip and then rises to the highest spot of the terrain, 216 feet above sea level. Speeds up to 160 m.p.h. have been attained on this stretch.
Suddenly, and from such speed, the course explodes into the downhill esses at Hogpen Corner (4), a treacherous drop of 114 feet through five twisting turns over less than 2,000 feet.
And this moves back into the home stretch where the Pagoda (5) marks the finish. Alongside this stretch is a paved pit area, 1,800 feet in length, 25 feet wide, built on a separate level from the racing course for safety reasons.
Three and two-10ths miles of real road racing challenge: that's VIR. And with 1,200 acres on the grounds, 200 of them in the infield, the racing spectator has the best viewing vantage point of any course in America.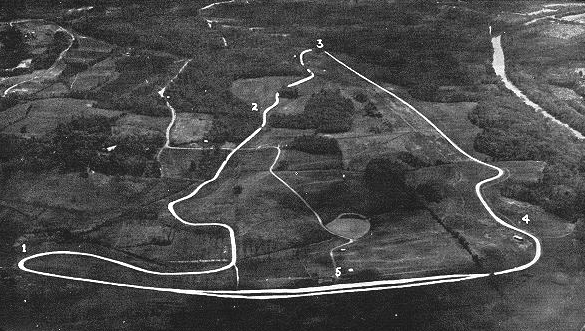 Aerial view of the "Dangerous Dozen" curves emphasizes extreme demands VIR race course makes on cars and drivers.
please send me e-mail with any additional info on this or any other VIR race