Durham Morning Herald 10/27/67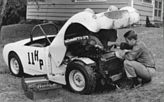 UNC Student Getting Ready For VIR Races
By SYLVIA WILKINSON
Dick Cloney, UNC graduate student in economics, spends his weeks working on his doctoral dissertation and turns into a race driver on weekends.
Yet, this is not the Cinderella existence one might imagine. Most young men engaged in the sport of automobile racing should be so lucky as to have a knowledge of economics since the privately owned race car competes for the same checkered flag as the factory financed team.
Until last spring Dick was just another guy who "loved to test his driving skills on a country road or spend a Sunday afternoon competing in a gymkhana, running against a clock and around pylons in a shopping center parking lot".
Then Dick took the big step -- he bought a crash helmet, a fireproof suit, and invested in his first race car, a bug-eye Sprite. He has spent every spare moment and dollar developing his car with Chapel Hill's Harold Whims as chief mechanic, and gaining driving experience in competition,
Dick's progress has been marked--whether it was a better line through a turn for a second or a new set of racing tires for two seconds--his wife Maria who handles the stop watches reports gains of four or five seconds a lap each weekend.
At Virginia International Raceway's annual Goblin Go Sunday, Dick will get his chance to compete not only against the drivers who instructed him last spring but against Raleigh's Team High Balls, a collection of five British motor cars driven by nationally licensed drivers.
But the weekend doesn't look at all dismal for Dick: "I found out a lot at the last race. Up until then I was concentrating so hard on my driving that I hadn't been able to evaluate my car. I found out it was faster . . . I could pull away from the team cars on the straights."
Asked how he felt about his car preparation for the Sunday races, Dick answered with equal confidence:
"When my driving improved, my mechanical judgment did also. It's hard for the average driver to know what can happen to a car at high speeds. At 65 the car may handle fine while at 90 it will shimmy all over the road. The kind of haphazard wheel balance that is only irritating on a street car is intolerable for a racing machine," he said.
"Taking an average car down a straight at 70 is pretty easy," Dick explained, "but going into a turn at that speed changes the whole situation. If I get the inside of the first hairpin of the first lap at VIR this weekend, I'll be able to tell you if I set my car up right."
Novice and experienced drivers agree that VIR's hairpins. long straights and uphill and downhill esses make it one of the four most challenging tracks in the country.
The raceway, located 14 miles east of Danville, Va., at Milton, N.C., on the state line, is the scene for this weekend's sports car race with practice scheduled for Saturday morning, sprint racing that afternoon, and a full day of racing on Sunday for formula, sports racing, American and European sedan, and production cars.
please send me e-mail with any additional info on this or any other VIR race