VIR - 1968 April SCCA Nationals - Race Report & Photos
Virginia International Raceway April 20-21, 1968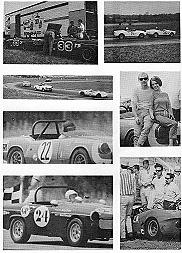 Race Report by Whit Diggett
Photos by Joe Goforth, Tom Lauer, Pete Williams
from NC Region SCCA Bulletin (thanks to Gordon Warren)
Click on a photo page to see a 4X larger version
"Go out and break that lap record" must have been the words on the lips of every team manager, pit crew and wife this weekend at Virginia International Raceway, Danville, Virginia. Ten of the things tumbled-to the list of the "broken." But then, maybe the presence of most of the "hot shoes" in this part of the country made the compe-tition so tough everyone had to go faster. At any rate, fall they did, and with shocking margins.
The crowd-pleasing overall lap record was possibly the most interesting. Roger Barr in his Formula B Crossle went out and promptly chipped it by 4.8 seconds with a 2:09.0. After five laps he pulled into the pits, and investigation found that nothing was wrong with the car. Because Mike Hiss had broken the Abrasive Alloy's Brabham the day before in practice, Barr had no class. What's left but the track record? But the story continues...Bob Nagel in the Thermo King Special (must have air-conditioning) Mckee went out for his race and shaved another 6 tenths of a second from Barr's time. But Nagel had to pit in his 15 lap race, and finished 6th overall and first in class since his two competitors broke and didn't finish.
Records or no, the reasons the boys were out there scorching, were points, those precious little things that determine who goes to the runoffs at the end of the year.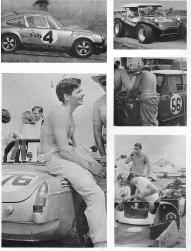 Sunday morning opened with the Formula Vee race, possibly the most closely matched racing since the wheel. The all-important draft and slingshot changed the lead too many times to mention. But Bill Scott had it when it counted, first to the checker. Followed by two more Zinks, Bill Greer and Jim McDaniel, the trio made the weekend for Ed Zink anxiously watching from the pits.
Next came the FP, DSR, C Sedan battle. And battle they did, with Bob Sharp, in a Datsun, Jerry Truitt, in an MG Midget, and Group 44's Brian Furstenau in an FP Spitfire. Furstenau grabbed an early lead with the other two but a paint job away. The Spitfire came to a mechanical stop and the other two waged on. Sharp led for awhile, and Truitt finally got by him only to spin into second place. John Ingleheart in his Bobsy followed Truitt across the finish to take 9 points in DSR. Seventh overall and first in C Sedan was Rick Stevens in a Mini. Both Sharp and Truitt set a new class record of 2.30.
Jerry Truitt jumped from one Midget right into another, from one battle right into another. This one he handled a little more easily, when Mike Downs in another Group 44 Spitfire spun, never again to see Truitt. Downs was able to work his way back to second, ahead of Nils Sanborn in another Spitfire. Randy Canfield and Rod Larson picked comfortable 4th and 5th overall seats to watch the Truitt-Downs fight, and brought home the HP bacon in that order. Al Constantino drove his little Fiat Abarth, the one with the trunk open, to a first in D Sedan challenged only by Al Berkelhammer in his Mini. Berkelhammer retired with oily problems leaving 2nd in class to Bobby Schultz in an Abarth.
Fred Opert kicked down the FC class record as well as the course record in his race, but he was being overshadowed by Roger Barr, who was also killing the course record. Opert won FC in his Brabham, followed by Pete Rehl in a Cooper-BRM, followed by Chuck Schroedel in a Brabham.
Monty Winkler showed up with a car that from different views looked like different cars, but no matter how you viewed it, you colored it fast. With the pole in the D and EP race, Winkler sped off to break the E record. He spun, climbed back to second and broke. Meanwhile a raging battle was taking place to fill his vacancy. Bobby Krokus in a TR-3, Bob Stanford in a Morgan, Amos Johnson in an MGB, and guess who, Bruce Jennings in a you-know-what. Krokus led handily after Winkler spun. But he broke. Then Jennings thought things looked inviting up front, so he took over. This left Stanford and Johnson to battle for second. As the Team Highball MGB rear end started to go, Stanford settled into a comfortable second, leaving Johnson a third. Group 44 driver John Kelly couldn't handle the two TR-4s of Jim Taylor and Dick Staples until Staples went a little sour and Taylor went sourer. So Kelly, Staples and Taylor took D honors in that order.
Even though the overall lap record was broken in the next race, the real racing was not with the A mods, because the attrition took two of the three out, and a pit stop took Nagel out of contention. Charles Gibson won the race and CSR in a Lotus 23. He too broke a class record. Second and third overall and lst and second in B Sr was fought for by John Dennis in a Porsche-Denmacher and Pete Sherman in an Elva Mk 8 and finished in that order. Ray Cuomo came from last on the grid to an impressive second in class C and 4th overall.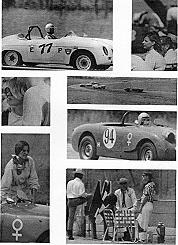 The feature race of the weekend was properly chosen even though no class records fell. The AP Cobra of Sam Feinstein led most of the race and BP Cobra of Gene Fisher placed 2nd and logged a class win. But the real dice went on between Bob Tullius of Group 44 in a TR-250, Chip Donnelly in a Sunbeam Tiger, Bob Sharp in a C Datsun and Bruce Jennings in his C Porsche. Once Tullius was able to shake the others he went on about his business leaving Jennings a hard fought second ahead of Donnelly and Sharp. Pat Mernone inherited the BS lead and win from King-Heddinger, both in 911 Porsches. Tom Dutton posted a 2nd in B production in his Stingray.
In every way a record breaking weekend, this N. C. Region's national paints a decisive picture of the highly competitive racing in the ranks of SCCA.
please send me e-mail with any additional info on this or any other VIR races