VIR - 1971 April IMSA - Race Report
Virginia International Raceway April 1971
Durham Morning Herald Monday April 19, 1971 - By CLIFF TURNER, Herald Sports Writer
Porsche Outduels Corvette For Danville 300 VIR Win
Gregg Repeats In GT; Loring Tops Formulas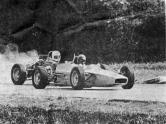 Hot Wheels Are Moving - Paul J. Keller, JR. (rear) driving a Hawk Renault closes in on Victor Matthews in Sunday's VIR Sprint race. Matthews is driving a Macon. Action occurred in the second turn of the Virginia International Raceway's 3.2-mile track.
MILTON- Defending champion Peter Gregg and co-driver Hurley Haywood teamed up Sunday to outduel a high-powered Corvette and win the Danville 300 Grand Touring series race over the 3.2-mile road course at Virginia International Raceway.
Greg and Hurley drove a Porsche 914-6, in the UGT class, which is in the grand touring bracket and under 2.5 liters.
Dave Heinz was the over-all winner in the OGT class, an over 2.5 liter classification. Durham's Byron Morris and Clint Abernethy co-drove a BMW to a first-place victory In the A Sedan class.
Young David Loring, who won Saturday's first heat in the International Motor Sports Association Formula 100 race, repeated again Sunday to make a clean sweep of both heats.
A costly pit stop on the 82nd lap was Heinz's downfall. On the back stretch near the oak tree turn, Heinz's scrambling Corvette spun out and as a result bent the clutch arm.
After that, Haywood, who drove the last 45 laps in the Gregg Porsche, built a full lap lead and added one minute and 37 seconds to his advantage on a second lap. Heinz never caught up.
Heinz, from Tampa, Fla., put his Corvette ahead of Gregg in the first 20 laps and built a 33-second lead with 22 laps gone in the race. However, Gregg, able to take the hairpin turns better, cut the lead to nine seconds and waited patiently like a deadly Cobra for Heinz to make a mistake or pit stop.
Another instrumental fact in Gregg being able to make it close was his refusal to brake in the turns as much as Heinz.
AFTER GREGG pitted for fuel and to let Haywood behind the Porsche wheel, Heinz zoomed back in to the lead. But on the 64th lap he had to pit again and this time his pit crew absorbed two minutes and 25 seconds of precious time - something he could not afford. Heinz confessed to that being part of his not being able to catch up although after the pit stop he cut from two to three seconds off Haywood's lead each lap for about 17 laps.
With only a 15-second lead, Gregg relaxed some after Heinz spun out. Losing a hood pin in the topsy-turvey spill, Heinz pitted again. Haywood waved to hit pit crew going by. One pit member flashed a chalkboard sign saying: Take It Easy. Haywood then only waited for the checkered flag to fall.
OTHER THAN the triumphant Porsche, which averaged 74.5 for the over-all 300 miler, there were three others in the top 10. Porsches driven by Ralph Meany, Pete Harrison and Jack Rabold were among the top finishers. One BMW driven by Morris and Abernethy, one Audi, two Datsuns and a Fiat made up the first 10 placers.
Heinz led the first 35 laps of the race and shot by the front straight near the flagman at speeds. of better than 85 miles per hour. At the end of 80 laps the speed average reached its highest peak of the day - 86.1.
A second lap spinout by Loring in his Formula machine almost proved to be costly to the former Canadian driver. But with quick thinking and good driving skills he soon worked himself back into the lead after getting into fourth place following the spinout.