VIR - 1972 April IMSA - Race Report - newspaper article
Virginia International Raceway April 15-16, 1972
Durham Morning Herald Monday April 17, 1972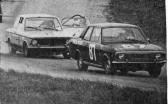 VIR Logjam - Byron Morris of Durham (No. 11) looks for room on the outside to pass the Ford Cortina driven by Alan Kline of Laurel, Md., Sunday during the VIR 250 at Virginia International Raceway. Richard Heller of Greensboro is boxed in behind Kline and beside Morris. (Staff Photo by Gene Wang)
Peter Gregg Gets 3rd VIR 250 Win
MILTON - Peter Gregg of Jacksonville, Fla. won his third VIR 250 race in as many years Sunday as his Porsche 911 outlasted an impressive field of more powerful Corvettes to -take- home top honors at Virginia. International Raceway.
Gregg and co-driver Hurley Haywood maintained a steady 75.6 miles per hour in spite of a heavy rain shower that eliminated many of the 51 starters. Pre-race favorite Charley Kemp and Dr. Wilbur Pickett lasted only 25 laps before the transmission broke in their Holiday Inn sponsored Corvette. Gregg and Haywood led a Porsche sweep of the first six positions after the favored Corvettes fell by the wayside with a variety of mechanical ills.
The expected renewal of last year's battle between Peter Gregg and Sebring GT winner Dave Heinz failed to materialize when the differential in Heinz's Corvette began to malfunction making the car almost impossible to handle.
Durham's Russ Norburn, after spending a frustrating afternoon fighting a variety of problems with the untested Javelin that he co-drove with with Bob Henning of Atlanta, managed a creditable comeback by taking over the BMW belonging to Phil Dermer and finishing 10th overall and second in class.
In Sunday's preliminary action, Bruce MacInnes of Forest Hills, N.Y., won the IMSA I-100 for formula cars. after pole winner Jack Baldwin suffered a fiat tire while leading the 16 lap sprint.
Top Ten finishers: Gregg-Haywood, Porsche; 2. Keyser-Beasley, Porsche; 3. Muniz-Van Buren, Porsche; 4. Bruce Jennings, Porsche; 5, Klaus and Harry Bytzek, Porsche; 6. Phil Currin, Corvette; 7, Schuck-Everett, Porsche; 8, George Stone, Porsche; 9, Baird-Amato, Pinto; 10, Dermer-Norburn, BMW.
Please e-mail me with any additional info about this or any other race. Thanks.
Back to 1972 IMSA Race Page
Back to main VIR history page