VIR - 1972 April IMSA - Pre-Race Press
Virginia International Raceway April 15-16, 1972
Richmond News Leader April 14, 1972 - By DICK DAVIS
VICTOR MATTHEWS HAS TWO ENTRIES AT V.I.R.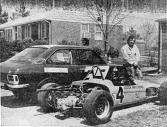 Richmond Driver Will Race in Toyota and Formula Cars at Danville
Photo by Albert Thompson Jr.
Three Sports Car Races On Weekend List at VIR
Sports car racing returns to Virginia this weekend with three International Motor Sports Association races scheduled at the Virginia International Raceway near Danville.
The events are:
A 100-mile race for sedan cars, known as Baby Grands, on Saturday at 3 p.m. for a $2,500 purse.
A 50-mile race for Formula 100 cars on Sunday at 1: 15 P.m. for a $2,500 purse.
And a 250-mile race for Grand Touring class on Sunday at 2:15 for a purse of $7,500.
Richmonder Victor Matthews is entered and there is a possibility that another local driver, Richard Wells, will have his Vega ready in time. Matthews will race his Toyota Corolla 1600 in the Baby Grand event and switch to his Formula Ford on Sunday. Formula cars are open-wheel, open-cockpit, single-seat cars made solely for racing.
IMSA has gained big dollar sponsorship this year from the R. J. Reynolds Tobacco Co. and B. F. Goodrich Co. Reynolds has put up $10,000 for a point fund and another $10,000 for the winning drivers in the four Grand Touring classes in what is to be known as the Camel Trophy Series.
Goodrich is sponsoring the Radial Trophy Series with $10,000 going to the point champion and another $10,000 to be divided among series winners.
Sunday's race will be the third in a 12 race series for the GT cars in the 1972 season, the first having been held at Texas World Speedway in December, and the second at Daytona on April 1. The Baby Grands and Formula 100 cars do not run at all 12 events.
This will be Mathews' first outing of the season in either category and he feels he has a strong contender in his new Toyota. He has lined up a sponsor, David R. McGeorge Car Co., for his Baby Grand and also one for his Macon Formula Ford, BAP-GEON. Matthews has been running his Formula car for several years but this is his first attempt at sedan racing.
Also on hand will be ex-Richmonder Bob Hennig, last years Over 2.5 Litre Touring champion in his Javelin, now with a 390 cubic inch engine, replacing a 305 C.I. block, and the Corvette driven by Charlie Kemp, a Mississippi stock broker and Dr. Wilbur Pickett of Daytona Beach. They piloted the same Corvette to an overall win at Daytona April 1.
Mike Keyser will have his Maryland-based Porsche 911 to try for the overall title after co-driving it to second place and first in class. Keyser's co-driver in that race was Richmonder Bob Beasley.
---
Please e-mail me with any additional info about this or any other race. Thanks.