Dr. Dick Thompson at VIR
Note - click on any photo for a larger version
DICK THOMPSON CELEBRATES 50 YEARS AT VIR
By Phil Allen
When Dr. Richard K. Thompson arrived at Virginia International Raceway for the track's "Inaugural Grand Prix Sports Car Races" on the weekend of August 3-4, 1957, he had already reached the top of two careers. On weekdays his dental practice boasted patients from Washington's elite power structure. Today he is hesitant to reveal names to protect his patients' privacy, but readily admits the list included Senators, Congressmen, Supreme Court Justices and several Ambassadors. His dental chair often doubled as a "seat of power" for the nation. (2007 VIR Gold Cup reunion - Phil Allen (left), Dick Thompson (right) - photo by John Gardner)
On weekends, Dr. Thompson the dentist took his own place in the national spotlight by demonstrating his skills in a different kind of seat; the driver's seat of sports car racers at road racing venues throughout the United States. He purchased a MG TD to drive on the street and began to enter competition events as well. The Official Sebring Record Book lists him as finishing eighth overall in the inaugural 12 Hours of Sebring on March 15, 1952 in the MG. The following season he purchased a Porsche 356 and campaigned regularly in SCCA F Production for a couple of seasons. He won the National Championship for 1954 and that led to what he describes as a turning point in his racing career.
"From that point on I was able to drive OPCs (other people's cars) and not have the expense of buying and campaigning my own. That was a very satisfying milestone for me."
At the VIR Gold Cup 50th Anniversary Celebration over the weekend of June 9-10, 2007, Thompson had a chance to reflect on his 50 years at VIR, including the inaugural race. "I came to that first race as the B Production National Champion from 1956," he said. "I drove for the Corvette factory, but had a very busy weekend in several cars."

His entries in three different cars in multiple races gave him what Mark Donohue would later call an "unfair advantage" over the other competitors. He was able to learn the track better and faster than the other drivers. He dominated practice and qualifying in B Production in his Corvette on both Saturday and Sunday. A Washington-area Porsche dealer had him drive a new Carrera Coupe on both days and he drove a Jaguar XKSS in the feature event's qualifying and race.The Jaguar was a street version of the D-Types driven by Briggs Cunningham's drivers, Walt Hansgen and Charlie Wallace. Jaguar had withdrawn from racing in 1955 and stopped production of the monocoque-chassis D-Type with 25 of the racing cars remaining on the assembly line. They converted them to street cars by removing the characteristic fin behind the driver and adding a full-width windscreen and a passenger seat and door. (1957 VIR photo by Harlan Hadley)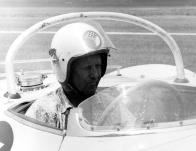 Thus, Thompson had only a slightly-detuned version of the D-Types. He finished fourth on Sunday, just behind Shelby's Maserati 450S and the D-Type Jaguars driven by Hansgen and Wallace, and ahead of National Champion Paul O'Shea in his factory Mercedes.
Thompson explains, "I had a busy weekend. I learned the course real well. I found it to be interesting and a lot of fun. It was amazing how similar the cars were on a course like this, except for the differences in top speeds down the long straights. I like VIR very much. It is an interesting, safe race course with a lot of run-off area on the outside of the turns." (1957 VIR photo by Watts Hill Jr.)
Thompson returned to VIR in October of 1957 and drove the Jaguar XKSS in the President's Cup Race and for the 1957 season he retained his SCCA B Production title, his third national championship, in the factory Corvette.
In 1958 Corvette fell victim to General Motors' and other American manufacturers' overall ban on participation in motorsports, so Dr. David Herson from the D.C. area furnished Thompson an Austin-Healey for the season. While his two appearances at VIR were only able to net him one win in a Saturday preliminary, his overall season was a success, achieving the 1958 SCCA D Production title, his fourth championship, for Austin-Healey.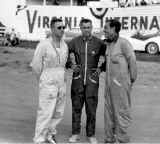 He ranks his weekend in May of 1959 the following year as his favorite trip to VIR. "I was driving with Walt Hansgen and Briggs Cunningham. We had a lot of fun. I had been co-driver with Walt a couple of times in endurance races, and Walt had recommended me to Chevrolet for the Corvette drive." His friendship with Hansgen extended to team owner Briggs Cunningham. (Hansgen, Thompson, & Cunningham photo thanks to Mike Rembold)
Thompson expressed his feelings toward Cunningham: "He was one of the best; very easy to get along with and very relaxed. He didn't believe in professional drivers. He often said, 'When you're having fun, why do you want to get paid? I want you to go out there and have fun. I don't care if you win or not, go out there and have fun!' Walt and I asked each other, 'What is he talking about?'" Thompson started the feature in Cunningham's No. 61 Lister-Jaguar behind Hansgen in No. 60. On lap 22, while in the top three, he pulled into the pits feeling the effects of a leaking exhaust header and turned the car over to car owner Cunningham after repairs had been completed. The two were credited with a seventh-place finish, third in class.
While Chevrolet's official departure from direct involvement in racing in 1958 led to Thompson's drives in the Austin-Healey and Lister-Jaguar in 1958 and 1959, his career will always be remembered for his successes in Corvettes. That is because a number of private entrants "took up the mantle" for Corvette amid strong rumors of secret factory involvement.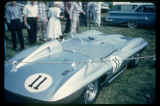 In 1959 Bill Mitchell, Vice President of Design for General Motors, used his personal funds to build and campaign a new Corvette prototype he called the Sting Ray and he called on Dr. Thompson to drive it. The car was scheduled to be entered at VIR in May 1959 but development problems prevented the car from being entered, thus freeing Thompson for his Team Cunningham drive. They continued to develop the car throughout the rest of the 1959 season and by 1960 they were ready to seriously campaign the car when they arrived for the "Operation Road Race VIR Nationals" over the weekend of April 30-May 1, 1960. (Sting Ray at VIR 1960 - photo by Les Nance)
While fans have long believed the Sting Ray prototype was the first of the line of production cars that appeared in Chevrolet showrooms in 1963, the longtime Corvette racer was able to add more details on the car's origins.
"The Sting Ray prototype was designed from scratch as a race car and built from the ground up with a space frame and all that, with different springs," Thompson said. "It was never designed as a production car. It was a thousand pounds lighter than a production Corvette. It was the best car I had ever raced, but it still had drum brakes, understeered badly and had an almost-production engine. It went fast because it was lightweight. It could have gone a lot faster, but nobody bothered to develop it."
Despite the Sting Ray's weak brakes and lack of development, Thompson drove the best race of his VIR career. A series of mistakes by starter Tex Hopkins caused the Sting Ray to overheat on the grid and Thompson's engine was shut down when the green flag dropped. He left the start line last with the RSK Porsches of Bob Holbert and Roger Penske in the lead. By lap 10 of the 40-lap feature Thompson had passed Penske, taken the lead from Holbert and set a new overall track lap record of 2 min 22.2 seconds, but the fast pace had come at a price. The Achilles' heel of all Corvettes up to that time was the drum brakes outfitted by the factory.
Thompson explained, "They were terrible. They worked quite well when they worked, but they always wore out before a half-hour race was over."
After passing Holbert for the lead, Thompson found himself distracted by pumping his soft brake pedal and spun, allowing Holbert to retake the lead. Thompson finished second overall, but first in C Modified. He went on to win the C Modified national championship for 1960 in the Sting Ray, his fifth title.
The problem with brakes was not new to Thompson and Corvette. He recalls, "I knew that in every race, the last two or three laps there wouldn't be any brakes left. In the longer races we would just have to back off and not use the brakes so much. This was especially true in endurance racing; we had to back off way before the turns."
As a result of his reputation as the nation's top Corvette racer and the close friendships he had developed at VIR and other venues, Thompson was invited to drive a Corvette in the ultimate endurance race in 1960, the 24 Hours of Le Mans. Cunningham entered a three-car team of Corvettes for an all-star line-up of drivers. It was Thompson's first trip to the French classic, where Cunningham had been a fixture since 1950.
Thompson recalls the experience today: "This was my first time at Le Mans. Cunningham had been there many times. Briggs knew how to do everything, and he knew all the people. Basically, Chevrolet was using Cunningham as a front man. The Corvette driven by John Fitch and Bob Grossman finished eighth." Thompson revisited Le Mans with the Cunningham team in 1961 and finished fourth in a Maserati Type 63 with co-driver Augie Pabst.
His return to VIR for the 1961 President's Cup race had mixed results. Thompson found himself on the grid in an older, outdated Lister-Corvette surrounded by some of the most talented drivers in the country driving the latest Type 61 Birdcage Maseratis. At the start, the superior torque of the Chevrolet V8 allowed him to jump out to an immediate lead, but his success was short-lived after the big Lister's shift linkage failed. He retired the Lister but after returning to the pits found himself again wrapped in the Cunningham fold, when Briggs Cunningham drafted him as his co-driver in his 2.0-liter "Baby Birdcage" Maserati. The pair finished eighth in a race where five of the top-10 finishers were large-displacement Type 61 Birdcages.
At VIR in 1961 Gulf Oil president Grady Davis had a two car team of Corvettes for himself and Don Yenko that did not include Thompson. Because of problems the team encountered, Davis asked Thompson to take over as his lead driver after VIR. Thompson, back in his old familiar Corvette seat, took the 1961 B Production title, his sixth. The team proved to be practically unbeatable.
Thompson explains why: "Grady Davis was a great guy and I enjoyed driving for him, but Gulf Oil did it. Davis may have put something into the team, but it was mainly Gulf Oil. Gulf would send their plane for me in Washington and take me to the next race. Gulf Oil's resources made a big difference."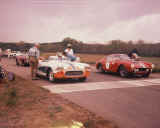 When the team returned to VIR in 1962, Thompson was entered in the larger-displacement A Production Corvette and Don Yenko had a smaller-engined B Production model. Thompson qualified on the pole and finished first overall after a battle with the Ferrari of Bob Grossman. Yenko took the B Production trophy. Thompson went on during the rest of the season to win another SCCA National title, his seventh, this time in A Production. (Thompson vs. Grossman, VIR 1962 - photo by Bill Reynolds)
The feature race for the weekend was the 1962 SCCA President's Cup and Thompson was an early pre-race favorite to win in Briggs Cunningham's powerful new Cooper-Buick. The Buick engine developed bearing problems on Saturday and Walt Hansgen's Cooper-Maserati suffered suspension damage. The team worked all night making the two cars into one for team leader Hansgen, leaving Thompson without a ride on Sunday for the President's Cup. In the Sunday race, Hansgen fell behind due to mechanical problems caused by torrential rains during the feature and staged a remarkable comeback, making up an almost two-lap deficit before the race was halted due to darkness, giving the President's Cup to Roger Penske.
Dr. Thompson's final Corvette drive at VIR took place in April of 1963. Grady Davis and Thompson were in the points race for the A Production title, so Davis brought three Corvettes to VIR, a pair of production Sting Rays for Thompson and Davis for the A Production race and a limited-edition, lightweight Grand Sport for the C Modified class. Thompson explains, "Grady and I needed the points in A Production, but the race organizers grouped the A Production Sting Ray and the Grand Sport into the same race. Ed Lowther had been entered in a Lister but he was drafted to drive the Grand Sport." Lowther's overall finish was two places ahead of Thompson in the Sting Ray, but Thompson took home the first-place trophy in A Production. VIR fans were never able to see their favorite Corvette driver in the fabled Grand Sport. (Thompson leads Davis and Lowther, VIR 1963 - photo by Gerald Eckstein)
Thompson described the Grand Sport: "The Grand Sport was the best car I ever drove. It was better than the Sting Ray prototype. The Sting Ray didn't have proper brakes. It had drum brakes and an almost-stock engine. It understeered badly, but went fast because it was so light. The Grand Sport was a great car; it had everything. It was light and handled well and had good brakes and stopped well. The only fault I found was a tendency to lift the front end at high speed that could possibly have been cured with some aerodynamic development. The front actually lifted off of the track at Meadowdale and broke the suspension when it came back down. I remember one time at Sebring I came up behind a big-block Ford factory GT40 and blew him off right in front of the pits! The Grand Sport has to be my favorite of all the cars I have ever driven. It was faster than the Sting Ray prototype due to better handling, brakes, and a bigger engine in a car that was just as lightweight."
Davis would have continued with Corvette and the Grand Sport, but Chevrolet did not continue to produce the lightweight model or supply parts for the five cars that were already in existence. Thompson gives his version of General Motors' reasoning: "Chevrolet wanted to get their cars into the hands of the enthusiast, and racing their production cars was the way to do it. The Grand Sport had very little to do with the sales of the production Corvette, because it was a professional racer. I don't think Chevrolet intended to continue with that program. It was for publicity, and for the car indirectly. I had a long, loyal and successful career with Corvette. A Corvette was the second car that I drove for somebody else after the factory Mercedes 300SL at Sebring with Paul O'Shea."
After a two year absence, Grady Davis and Dr. Thompson returned to VIR for the weekend of April 29-30, 1966 without their customary Corvettes but instead with a Ford GT40. Ford had produced a street version of the famed racer and there was a rumor that the car they brought was a street version.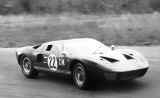 Thompson puts the rumor to rest. "Grady may have driven the car on the street illegally, but this was a fully race-prepped racing car. When I went over the hump at the kink in the front straight I was going so fast I thought I would end up on the next farm over from this one!" The record books for the weekend back up his impressions. He won the feature race by a 15-second margin and set a new overall course record of 2 minutes 15.6 seconds, breaking a five-year-old record set by Walt Hansgen in 1961. (1966 VIR photo by Jack Stokes)
He returned briefly to the more-familiar Chevrolet brand that weekend by piloting his friend Don Yenko's Yenko Stinger to victory in the D Production contest. He continued to drive the Stinger for the rest of the season and won the SCCA D Production National championship, his eighth and final title.
Dr. Thompson's final appearance at VIR came at the VIR 400 Trans-Am race the weekend of July 30-31, 1966, where he was teamed with Mustang owner Jim Sutter of Wheaton, Maryland, and Danville's NASCAR star Wendell Scott. As predicted, the race turned out to be a battle between the experienced road-racing regulars, such as Thompson, and a group of NASCAR stars brought in as co-drivers to attract the area stock car fans and spectators. By lap 43 Thompson had secured a solid third place and both Richard Petty and David Pearson had spun into the mud at turn three. Thompson pitted and turned the car over to Scott and, you guessed it, Scott spun into the mud at turn three, causing a retirement and the naming of turn three "NASCAR Bend."
After his final VIR appearance Thompson remained active in racing with regular drives in a Trans-Am Shelby Mustang and in European endurance racing until he retired from racing. He has retired from the practice of dentistry and he and his wife Eve live in South Florida
For more details of his career other than his VIR appearances, see the excellent article by Richard Prince in the November/December 1998 issue of Vintage Motorsport Magazine
Several sources list different numbers of SCCA National Championships for Dr. Thompson. He confirms eight:
1- 1954 F Production Porsche
2- 1956 C Production Corvette
3- 1957 B Production Corvette
4- 1958 D Production Austin-Healey
5- 1960 C Modified Corvette Sting Ray Prototype
6- 1961 B Production Corvette
7- 1962 A Production Corvette
8- 1967 D Production Yenko Stinger
---