Beach Formula Cars
Please send me e-mail with info or photos about any Beach racing car
This info is a work in progress with info being pieced together from various sources.
Please forgive my errors and help straighten me out.
---
Mk 5 Formula Vee (FV) cars
Gene Beach and Chris Amon's 1965 Nassau-winning Mk5B

Mk5 Sales Brochures & Specs


Beach FV cars on a 1965 recording from The Netherlands!


August 1963 sketch

Factory Team Cars for sale after 1965 Nassau races

You might find the serial number stamped into the frame at the location indicated here:

Serial Number Close-up


Gene Beach and driver Janet Guthrie at Sebring race

1964 Nassau


thanks to Glenn Dobkin for these photos

Nassau 1964 - Bruce McLaren (27) and Sheldon Dobkin (28)

Sheldon Dobkin - 1964 SE Divisional champion

Sheldon Dobkin - first driver to win in a Beach FV (Overkeys Motors)

Video of 1966 Nassau FV race - several Beach cars are shown including 190XP

s/n 190XP - #36 at Nassau 1966
Driver Pedro Rodriguez

---
Oldest survivor? Mk5 - s/n 14
now owned by Tom Hartman. Originally delivered 1/64 to Jim Haynes (via Bill Rutan).
---
Mk5 - s/n 16
This car was sold in Feb. 1964 and delivered to Pensacola Fla. for $1935. Originally owned by Elmer Jenkins. Gerald Dobert owned it 1988-98. Then it went to Mike Collins (NY), then to Kevin Clemmens (Columbus, OH), then to Morgan Wilson - Nov. 2010 now owned by Steve Parrish.
Photos thanks to Morg Wilson

Hershey hillclimb 2004

Giant's Despair hillclimb 2004

Morgan Wilson
Hillclimb champion 2007

Weatherly hillclimb
- airborne at 120 mph
---
Mk5 s/n 21
| | | | |
| --- | --- | --- | --- |
| | | | |
| | | 2017 - in Germany | 2017 - in Germany |
Barn find in Texas April 2008
---
Kevin Clemmens' Mk5 s/n 36
| | | | |
| --- | --- | --- | --- |
| | | | |
| | Now owned by Fredy Moser (Switzerland) | - | - |
---
Wilfried Brunner's 1964 Mk5 - s/n 39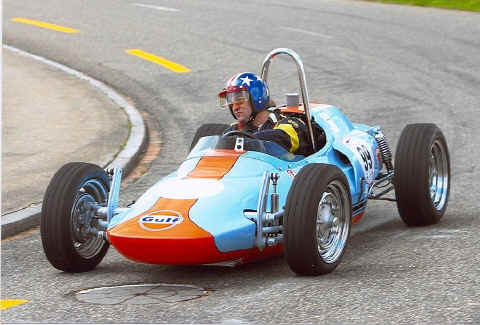 ---
Dennis Groen's 1965 Mk5B - s/n 67 (formerly Greg Heuer's)
---
Bill Moseley's Mk5 - 1965-66
---
Mk5B s/n 127 - Dan Fowler
| | |
| --- | --- |
| ARRC Winner 1965 | Bridgehampton |
---
Mk5B s/n 137
photos from Robert Woudhuizen (Holland) - car is now owned by Aaron Annerel (Belgium)
---
Bill Schaible's Mk5C s/n 190XP
s/n 190XP - #36 at Nassau 1966
Driver Pedro Rodriguez

Video of 1966 Nassau FV race - several Beach cars are shown including 190XP

--
--
---
Mk5C s/n 217
from "basket case for sale" posting
---
Mk5C s/n 222
---
Misc Photos

Hans Mohnen Mk5C
from Beach sales brochure

Hans Mohnen Mk5C



Rick Rogers 1967 Mk5C

s/n 133 - Chris Amon - Nassau 1965

John Allen (ex- Tengerdy)

John Allen (ex- Tengerdy)

John Allen (ex- Tengerdy)

Gene with Janet Guthrie at Sebring

John Allen (ex- Tengerdy)

Ray Weaver Mk5C
1969

Ray Weaver Mk5C
Riverside 1969

Ray Weaver Mk5C - Nurburgring 1969

Ray Weaver Mk5C

Ray Weaver Mk5C

Gerry Brazil Mk5C
10 Mk5B cars imported to Holland - 1965
s/n 107-116


1967 Mk5B s/n 99?
for sale - click here

--
--
---
Richard van den Ancker's Mk5B - bought from Robert Woudhuizen - it raced in Canada before that?
Please send email if you have more info on this car
---
James Brooks' Mk5B in Belgium
Jean Cevaer's Mk5B in France - possibly not a Beach chassis, but Beach body only?
- Read here for more info
---
Thanks to Greg Heuer for passing along Gene Beach's list of Mk5 and Mk5B cars - pdf version
Mk 5 s/n

Original owners

Delivery

Current owner

notes

01
Ed Smith
8/63 Tarpon Springs Fl
02
Overkeys Motors
8/63 Perrine Fl
03
Milo Vega
8/63 Tampa Fl
Larry Farr (Sarasota)?
04
Overkeys Motors
8/63 Perrine Fl
05
Dave Tallakson
10/63
06
Bryan Webb
10/63
07
Lee Lilley
11/63 Houston Tx
08
Overkeys Motors
11/63 Perrine Fl
09
S&R American Motors
11/63 White Plains, NY
10
Overkeys Motors
1/64 Perrine Fl
11
Overkeys Motors
1/64 Perrine Fl
12
Southgate
64
factory car
13
Bryan
64
chassis renumbered #6
14
Haynes via Rutan
1/64 Essex Ct
Tom Hartman
oldest survivor?
15
S&R American Motors
2/64 White Plains, NY
16
Overkeys Motors
2/64 Perrine Fl
ex-Morgan Wilson
Steve Parrish
see photos above
17
Johnson
2/64
18
Continental Cars
2/64 Alabama
19
B&B Sports Cars
2/64 Dallas
20
McClughan
3/64
21
B&B Sports Cars
3/64 Dallas
Christian Grundmann
Germany
barn find - see photos above
22
Whitaker
4/64
23
VW Hawaii
4/64 Karl Hamster?
24
B&B Sports Cars
4/64 Dallas
25
Continental Cars
4/64 Alabama
26
Continental Cars
4/64 Alabama
Wilfried Brunner
(Switzerland)
27
S&R American Motors
4/64 White Plains, NY
28
B&B Sports Cars (Young)
5/64 Dallas
29
Autohaus
4/64 Pompano Beach
30
B&B Sports Cars
5/64 Dallas
31
Bill Mann
5/64
32
Span
5/64 Kenosha WI
33
Cumberland Auto
5/64
34
Span
5/64 Kenosha WI
35
Rockwood
6/64 ILL
36
S&R American Motors
7/64 White Plains, NY
Fredy Moser (Switzerland)
see photos above
ex-Kevin Clemmens
37
Span
7/64 Chicago
38
Brundage Mtrs
7/64 Jacksonville
to Stuttgart
39
Southgate Competition Motors
7/64
Wilfried Brunner
(Switzerland)
ex-Jason Anderson
(Steel Cities)
ex-Gerry Brazil
(Michigan)
ex-John Wiley
40
S&R American Motors
7/64 White Plains, NY
41
S&R American Motors
8/64 White Plains, NY
42
VW Hawaii
9/64
43
Dennis (for Ken Wall)
10/64
44
W.A. Bassler
12/64 Fern Park, FL
45
B&B (F.R. Costey)
12/64 Beaumont, TX
46-48
no records
no records
no records
no records
---
Mk 5B s/n

Original owners

Delivery

Current owner

notes

49
Mikkelson
1/65
first 5B
50
B&B Sports Cars
1/65
51
Jeff Stevens
2/65
Belcher
52
J.G. Clark
1/65
Trotter
53
Imported Car Service
2/65
54
Duchess Auto
2/65
55
Gene's For. Car Service
3/65
56-65
Porsche (Germany)
3/65 Stuttgart
Gene Beach says -
"63 kits total shipped to Porsche"
66
S.E. Import Parts
3/65
67
Herb Wahlman
3/65
Dennis Groen (NL)
68
Donald Wilham
4/65
Mid-Ohio 7/67
69
Courtney
4/65
70
Oliver
4/65
71-75
Pon's (Holland)
4/65 Holland
76
Lakeview
4/65
77
Lakeview
4/65
78
Winter
6/65
79
MAHAG
5/65
reconsigned to Porsche, Salzburg
80-83
Porsche (Salzburg)
5/65
84-87
Winter
5/65
88-89
Scania-Vabis
6/65 Sweden
90-94
Petermax Mueller
6/65 Germany
95-96
AMAG
6/65 Switzerland
97
AutoGerma
6/65
98
Gloeckler
6/65
99
ANC et Dieteren
6/65
100
Robert Fuller
6/65
101
Toney Belcher
6/65
102
Hahn
8/65
103
Factory Team
7/65
sold to Kohler 9/65
104-106
Hahn
8/65
107-116
Pon's (Holland)
7/65 Holland
See import document above
117
Norman Hamilton
7/65
118
Hahn
8/65
119-123
Porsche Austria
8/65 Austria
124
Belcher
8/65
125
Stevens
8/65
126
Stevens (Ripper)
8/65
127
Dan Fowler
8/65
1965 ARRC winner
128
Bibeau
9/65
129
Porsche Austria
9/65
130
Cutler Motors
10/65
131
Chandler Lawrence
10/65
Factory Team Car Nassau 65
132
Warren
10/65
133
Factory Car
10/65
Roger Windley
(England) ?
Factory Team Car Nassau 65 (Chris Amon)
ex-Ed Mercer (England)?
134
Factory Car
10/65
?
Factory Team Car Nassau 65 (Bruce McLaren)
135
Ellwood Motors
10/65
136
British European
(Brenner)
11/65
137
Loppart et Taymans
11/65 Belgium
Aaron Annerel (Belgium)
ex André and Teddy Pilette International Racing School car (circuit Zolder Belgium)
ex Robert Woudhuizen (the Netherlands)
138
Loppart et Taymans
11/65 Belgium
139
William Clark
1/66 St. Petersburg, FL
140
Werych
1/66
141
Foster
1/66
142-143
Loppart et Taymans
3/66 Belgium
144
Boyd Williamson
3/66
Boyd Williamson writes "I was the original owner of the car. I bought the car direct from Gene after talking with my boss (who was a VW dealer) and had it shipped to my home. I bought it in my name because the dealer wanted only to have his name on the car as a sponsor. I would love to know where its located and would love to buy it and return it back the way I raced it. If you do locate it please feel free to email me the information anytime."
145
Robertson
3/66
146
European Cars Ltd,
London - Mike Mitchell
4/66 England
Mike Mitchell drove 1967-68
Finished 7th in National Championship
Info from Mike Mitchell
(Gene Beach's notes say "VW Ltd (England) (Griffin)")
147-150
VW Ltd (England)
4/66 England
151
VW Ltd (England)
4/66 England
Bob Hatton (England)
ex-John Robinson
(England)
152-155
VW Ltd (England)
4/66 England
156
Mike Rothschild
4/66
157
Petersen
4/66
158
Moylan
4/66 Guam
159
Jimmy Court
(Brian O'Neal)
4/66
EXP?
160
Stephens Motors
7/66 Calif.
161
Victor Merino
7/66 Puerto Rico
162
Bud Lewis
7/66 Spartanburg, SC
163
Winslow Jones
7/66 Jacksonville, FL
164
Mike Wallace
7/66 Titusville, FL
165
Vince Chimera
7/66 Rochester NY
166
Jim Whaley
8/66
167
Wayne Purdy
8/66 FL
John Denman
(Dallas)
168
Lindley Coleman
8/66
169-172
ARM
8/66 Miami
Raced at Nassau 1966
Mk5B-XP
173
?
8/66 Delaney, NJ
174
Lee Cutler
8/66 Sarasota FL
Mk5C-XP
175
?
9/66 Hussey, NJ
176
John Lowe
12/66 Nassau
Raced at Nassau 1966
177
Tropical Motors
1/67 Nassau
Raced at Nassau 1966?
?
?
1965
B. Goldman
?
Pon's?
1965
Jean Cevaer
(France)
---
Mk 5C s/n

Original owner

Date

Current owner

notes

174
Lee Cutler
8/66
?
experimental - built for 1966 Nassau race
178?
first production 5C
?
?
first production 5C
180
?
?
Sam Collins (UK)
190 XP
ARM
?
Bill Schaible
Mk5C-XP- Pedro Rodriguez Nassau 1966
201
?
?
Greg Heuer
ex- Dan Stone
216
?
?
Doug Stokes
217
?
?
Mark Matson
see photos above
221
?
?
Scotty Gerber
222
?
1967
Julie Dunn, Edward Dunn
see photos above
227
Ray Weaver
?
Don Allen
went to Nurburgring
228
?
?
Charles McDevitt
238
?
67-68?
ex-Gerry Brazil?
ex-Hugh Kleinpeter
241
Fred Clark
?
Robert Sterling
?????
please e-mail if you know anything about this car's whereabouts
246
?
?
Edward Ziegler
Bill Griffith (Houston)
?
?
?
?
?
?
Sandy Jackson (FL)
?
?
70
Retta & Myles Winbigler
?
?
69
Jean ? (France)
?
Charlie Schmidt (NEB)
68
?
1500cc - Sebring 1968
?
?
67
Rick Rogers
---