OF BEGRA'S, BEACH'S, AND GRADY SPORTS RACER
Sports Racing Cars Designed and Built In the 1960's by Gene Beach and Henry Grady
Webmaster's Note - Unfortunately, Hugh Kleinpeter died in 2002 without ever writing Part II of this article. He passed along all his notes and photos to me and this web site is an attempt to pull together more history on Beach and Begra sports racing cars. - Nick England.
By H. I. Kleinpeter - Victory Lane magazine December 1995

[Webmaster's notes by Nick England, 2002]
The collaboration of Gene Beach and Henry Grady in the late '50's was a real benefit to small bore modified racers. These two talents, both jointly and singly, created some of America's most interest­ing and successful G and H modified sports racers.
Many of the details relative to their Begra (BEach-GRAdy) racers have appeared in print over the years, most notably in Sports Car Graphic and Car and Driver articles of that era. The laudatory reports on the Begra cars exceeded many times the number of cars made, and readers who are more interested can obtain the references from the writer.
Early in WW II, Gene Beach was an engineering student at the University of Florida and in the ROTC. Called to active duty as a 2nd Lieutenant six months before his graduation date, he was assigned initially to artillery. Before long he was transferred to Tank Destroyer development in Texas, and subsequently to Air Corps flight school. Having graduated, and while training with a Battle of Britain veteran, the engine in his P-47 fighter quit at a mere 1500 feet while returning to what is now Andrews Air Force Base near Washington, D.C.
Gene bailed out at less than 500 feet (P­47's descended rather quickly without their massive and heavy power plant operating) and broke his back on impact. For six months he suffered paralysis from the waist down, and to this day the adverse effects are with him. He returned to the university, finished up in 1946, went back into the Air Corp for another year in connection with treatment, then medical evaluation, and was discharged again.
With his Industrial Engineering degree, Beach opened a practice in Clearwater, FL in association with an architect. Several years later, he passed the state examinations and began his own architectural practice. Besides all that and raising a family, by 1954 he was racing an MGTD. Next he built his own racer from a Crosley to which he had made heavy modifications of his own creation. His first real design was probably the Panhard-engined car which he drew for Don Kearney (much later, a Datsun ace) who was working for Henry Grady at the latter's sports car agency in Clearwater. Thus Beach meets Grady
Henry Grady was another ex-Air Force pilot. Graduated from the University of North Carolina in 1951 with a degree in Physics, he won commission and wings in '53 and spent the next three years flying the big multi­engined planes like C119's, B­29's, C-97's and such, mostly in the Orient. Before Vietnam was Vietnam, Grady and his planes displaying French air force markings were doing missions in French Indo-China!
By 1958, Grady, now discharged, with two former air force buddies, established an auto sales agency in Clearwater, FL called Vitesse Sports Cars. As previously mentioned, he there met Gene Beach. A little later Grady established a foreign car parts business in Tampa at a Fiat dealership, and at that place met Bryan Webb. These two later moved to Miami and started Import Motor Parts. Webb went on to become, in the writer's opinion, the best official, Director, and Chief Steward the SCCA has ever had.
Beach and Grady teamed up to produce the first Begra (Begra MK I) in early 1959. Being the ingenious innovators that they both were, the duo realized that the best way to proceed was to capitalize on the success of others. In this case the Fiat company with their excellent little 600 model would provide basic suspension geometry and a marvelous quantity of needed components. Plus, by buying a new Fiat, the local bank would unknowingly finance the project. Even more money was available by selling back to the Fiat dealer, the still new bodywork, seats, interior, etc!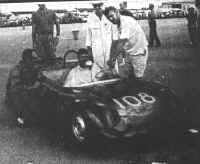 Begra 1, 1960 at Master's Field, Miami, Florida with pleased new owner Jerry Morgan at the wheel. Crouched beside the Begra is Henry Grady, co-designer/builder. Standing behind is Bryan Webb, Grady's business partner in Import Motor Parts. Mechanic-helper Ivan Trafimof making adjustments.
The chassis of this car was a space frame of welded up square mild steel tubing. The suspension pivot points were identical to the Fiat 600. The attractive and aerodynamic body of this car was aluminum, and was personally created by Beach, who had no experience at all at this craft, by hammering it out over the famous "stump".
The suspension, wheels, brakes, transmission, rear swing axles, steering and engine were all from the donor Fiat. Grady enlarged the engine to 748 cc for the SCCA H modi­fied class and got about 40 hp. The entire vehicle with driver aboard weighed about 800 lbs. The driver sat on the left.
Barely a week after it was completed the Begra's first race had Gene Beach at the controls at Cocoa, FL and started from the back of the grid. Moving rapidly to third place the Begra was stuck there to the end, being unable to get around two Porsches dueling for first place overall, but easily winning its class. From then on, Grady and Beach swapped driving duties at Florida SCCA events, refining the car and going from success to success. The car was gaining in reputation and respect.
They sold it to Jerry Morgan of Eau Gallie who raced it for awhile with the original uprated Fiat engine. Continuing their interest, Beach and Grady convinced Morgan to install a Saab 750 which Grady brought up to near factory GT performance levels with no help from Saab. Problems related to an electric tachometer installation plagued the Begra's performance for awhile. But like Grady said "when it worked, it out-accelerated everything on the grid". Once the rev­limiting problem was behind them, about 55 hp was available to propel the car to win after win.
Paul Kneeland, then in Silver Springs, MD next owned the car, swapping a Bug-eye Sprite for it. Kneeland replaced the 750 cc with an 850 cc Saab as the former blew up at the first race. Kneeland says the Chris Custer tuned 850 was so powerful that it frequently tore up the Fiat 600 transmission gears. Other immobilizing problems came from the exhaust system which frequently broke due to the chassis flexing.
Kneeland raced the car in the Washington, D.C. area for several years and said, "when it went, it went incredibly fast." He made changes to the bodywork during that period as the original alloy body had suffered over the years. When Kneeland bought the car it came with a spare nose in fiberglass, apparently a MK II item. As he recalls it was slightly wider and longer than the original which he replaced. The tail section was built up a bit over the tires to provide more clearance and used as a plug for mold from which a fiber­glass tail was made.
About 1964 the car was sold with the re­placement bodywork to one Wesley Glantz of Albion, NY. Its present situation is unknown.
[Webmaster's note - click here for more photos of Mk I]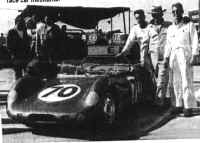 "Sebring" Begra on the grid prior to the 1961 Sebring 12 Hour. Standing beside the car (l. to r.) are Bryan Webb, a future important SCCA official, Gene Beach, co-designer/builder/driver, and Bill Orr, master race car mechanic.
The "Sebring" Begra, or Begra MK II as it is also known, was the next joint effort and was made in early 1961. The success of the first car and the promise of Saab powered per­formance encouraged construction of a new car destined to race at the legendary 12 Hours of Sebring in March of 1961. With only one car to their credit Beach-Grady had acquired the status of Constructors and had an entry accepted.
By this time Grady had moved to Miami and the car was being constructed in Clearwater, some 5 hours drive away, necessitating a tiring night trip Friday and Sunday to work on the car and return. During the week telephone conferences had to suffice. A new stronger and somewhat heavier chassis was created to withstand the rigors of 12 hours over the deteriorating concrete of the Sebring bomber field runways. A deal had been struck with Saab to provide not only a factory GT engine but a factory technician for the race to boot.
Brakes and suspension were beefed up. Whereas the Begra I used Fiat 600 components, the Begra 11 used Multipla brakes and 1100 front suspension. Rear suspension and transaxle remained Fiat 600. Left and right side fuel tanks of 17 gallon capacity went into pontoons. The driver still sat on the left hand side but the bigger of the two fuel tanks on the right helped to cross balance the car. The engine was again rear mounted (behind the gearbox).
A new fiberglass body was constructed based mostly on the earlier version, but with a prettier nose, and painted a brilliant blue. The promised Saab engine arrived at very near the last moment. Grady took a week off, and final preparation began. The drivers for this happening were Beach and Grady, plus John Bentley, who was an 8 time veteran of the 12 Hour race and had won the Index of Perfor­mance the previous year in an Osca.
Mostly an undiagnosed engine problem plagued the new car during practice. It would not start, and when it did start it would not run under 1600 rpm. For a lap it would run fine, then the next badly. The Saab mechanic showed up after the race was under way and was of no help at all. But around and around it went for 4 hours and 52 minutes until the Saab engine exploded.
Grady summed it up by saying, "We're not happy with Saab, and Saab isn't happy with us". End of the Begra/Sebring adventure.
A borrowed twin-cam 750 Fiat was next installed in the car and a driver's school was attended with this power plant, but it had to be returned. Grady then took the car to Mi­ami and fitted a Ford 105E bored to 11 1100cc. In an effort to reduce weight, an aluminum Aquaplane cylinder head with twin Webers was fitted, along with a Holbay spec camshaft. The cam was borrowed from the engine in Charlie Kolb's 1961 Sebring Formula Junior Gemini, with which he had trounced every­one there, and sent to Harvey Crane for copy­ing. Begra 2 was acquired by the writer and ran with drama in SCCA events in Florida as a G Modified. It invariably led every event, besting the area Lola MK I and similar Modifieds except when the engine broke and the time the incredible Kolb showed up in a new Merlyn and just drove away.
The car itself never required any attention, but the engine suffered two problems: blown head gaskets and broken crankshafts. The me­chanics for the Team Rosebud Formula Junior's had told Grady that a Holbay cammed engine could be taken to 9000 rpm. What they did not reveal was that they were using a steel crankshaft and not the 105E hollow cast crankshaft! In 1963, the writer raced the car at the Nassau Speed Weeks but suffered a piston failure in practice and the racing itself was without accomplishment. Besides the engine problems which were resolved by lowering the shift points to 7500 rpm, there was a handling problem (oversteer) because of the rear engine mounting with the skinny tires which was all that was available then. If it rained, Grady's advice was to "park it". Later the next year the car was sold to insurance adjuster Philip Cree of Coral Gables, FL who raced it irregularly for about a year and in turn sold it to a buyer whose name was soon forgotten. The car was reported at one time in the Key West, FL area. Present owner and location is unknown.
[Webmaster's note - click here for more photos of the Mk II]
While Grady was developing the Ford in the "Sebring" Begra, it was principally driven by Jack Landers, later killed in a student's car while instructing at an SCCA school at Palm Beach International Raceway. Gene Beach on his own was creating the Begra 3. These cars were a fresh design and probably should have been named "Beach's". Whereas the earlier Begras were rear-engined, these were mid-engined in a redesigned frame. A fully independent suspension all around, Fiat front up­rights with purpose designed steel fabricated rear uprights and Fiat drum brakes and wheels were used. The front suspension was conventional wishbone hung on bushings. The rear used simple transverse links, top and bottom, with a single lower trailing arm.
The driver sat on the left in a fiberglass body much like the "Sebring" Begra but sporting a handsome new tail section featuring a little "porch" or step at the back. The rear wheels/tires were now completely exposed by the rounded wheel arch. A Fiat 600 gearbox was inverted and Beach designed his own adapter which he had cast in aluminum.
Team Roosevelt Begra 3-01 powered by a 750cc twin cam Flat-Abarth engine, being driven by Gene Beach, designer/builder in 1962 at a Florida race track, probably Boca Raton.

Beach made two of these cars in late 1961 and 1962. Begra 3-01 was built for Team Roosevelt manager, John Norwood. It was fitted with a 750cc Fiat Abarth twin cam, and entered in the December, 1961 Nassau Speed Week event. It did not race, a minor but unresolved engine problem occurring. The Begra spent the next six months or so in Beach's possession in Florida. With the engine problem resolved both Beach and Bobby Richardson raced and won with it in SCCA events. Now fully competitive it was returned to Team Roosevelt. This car is now owned by Ed Gavin of Yuba City, California, but at present is not being raced.
[Webmaster's note - Bil Mundus bought 3-001 from Beach in 1965]
Begra 3-02 was built for George Avent of Kingstree, SC. He installed a 750cc twin-cam Fiat Abarth purchased from Team Roosevelt at Washington, D.C. Meticulous and determined in his racing, Avent won the SCCA Southeast National Division title in his Begra in 1962 and 1964. In 1963 and 1965, he was runner-up to the Champion. Prior to selling the car in 1967 or '68, he had converted the drum brakes to disc units and replaced the fabricated rear uprights with Beach's new cast alloy uprights. Present situation of the car is unknown.
[Webmaster's note - 3-002 photos]
Two more Begra 3's were sold in kit form. One to Frank Stark of Mechanicsburg, PA in 1962. Stark installed a 750cc Saab mated to an inverted Fiat gearbox, and used Triumph Spitfire front uprights and disc brakes. The Begra 3 was raced by him until 1967, having taken the 3rd place in Divisional Championship points in two of those years. He sold the car to a Gene Leavens in New Jersey in 1967. The whereabouts of this car at this time is unknown. According to Gene Beach's recollection, a Begra 3 kit was sold to a buyer in Wyoming, but nothing else is remembered or known about this car. In all, only four Begras were completely constructor built, two by the joint effort of Grady and Beach, and two by Beach alone, but a total of five or six existed.
[Webmaster's note - Stark's car 3-003 was later destroyed in a hillclimb accident, and the 3-004 kit car was bought in 1962 by Andy Anderson in Missouri (not Wyoming) and is now in Hawaii]
Now doing business as Competition Components in Clearwater, FL, Beach penned a production series of totally new cars - the MK 4's. These were to become his most successful cars and 17 of them were made. [Click for car history by serial number]. Two of the MK4's, then an upgraded model called the MK4B of which five were created. One MK 4C (2 liter BMW), six MK 4B Series II, plus three 4B SRV's which were identical to the Series II cars except that they utilized VW engines and the front and rear axle assemblies from the VW Beetle. All of these cars were for SCCA F, G, or H Modified categories, but the original idea behind the SRV's was that buyers would purchase entire cars or kits and run them as fun road cars.
Abandoning the Fiat components for suspension, Beach went to Triumph Spitfire front uprights and disc brakes. At the rear, major improvements were the single upper trailing arm and a lower wishbone, plus transverse camber link. For the bodywork, the nose was lowered and flattened. The tail was the same as the Begra 3 except that the mudguard area behind and beside the tires was cut off horizontally at the axle line. Once again, the chassis was subtly redesigned. The inverted Fiat 600 gearbox with custom adapter was offered. The driver sat on the left in front of a single width anti-roll bar (still without brace) and the car had two seats.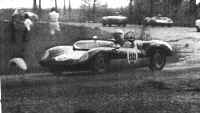 Beach as the designer, constructor, and frequently driver of his cars readily perceived areas where improvements could be made. As a consequence running changes and upgrades were standard operating procedure at his small factory. He only made two of the MK4 cars, before he introduced the MK4B. Within two years, further changes warranted another new designation, the MK4B/Series II, and before another year passed, the SRV model. All the while he was turning out Formula Vee's by the hundreds, and found time to create a lovely little GT Coupe - the MK8
Photo above - original Mk 4 - Jim Downing at Bainbridge?
Elmer Jenkins and Roy Schecter owned Sports Cars International in Miami Springs, FL and as BMW distributors had acquired the Hans Stuck/Hill Climb 700 coupe, using a 2 cylinder, air-cooled, engine producing 65 Bhp. The first and only Beach built MK 4 went to them with the 700cc coupe engine installed. The car with Jenkins aboard was featured on the single page sales flyer for this model. Schecter, Jenkins, and Jeff Stevens alternatively raced the car in Florida SCCA events.
Jenkins sold the car to Eben DeGrasse who sold it to the now more than then nationally known IMSA Champion, Jim Downing of Atlanta, who removed the BMW and installed a D-B which had greater displacement and raced it in SCCA in 1965. The next owner, Bill Hobbs, installed the now popular Sunbeam/Hillman Imp engine. Ron Pinto of Palo Verdes, California has owned and raced this car since 1988, still with an Imp motor.
[Webmaster's note - This Mk4 is s/n 3-005]
The other MK4 was sold as a kit to Hugh Grammer of Dallas, TX. This car was apparently the first Beach sports racer to have an identification number, "100". Still uncompleted, Grammer sold the MK4-100 to Fred Cox, the Jaguar, Sunbeam, etc., dealer in Nashville, TN. [Webmaster's note - this paragraph is mistaken. Grammer received a Mk4B (not Mk4) kit s/n 100 in 9/64 and completed and raced it himself in 65-66 - he did not sell it to Cox. Cox's original Mk4 (4-001) was evidently a kit originally sold to Lotus Southwest, explaining the Texas connection.]
Cox installed an Imp mated to a Fiat 600 gearbox and proceeded to win the H Modified SCCA Southeast Division National Championship in 1965. Cox sold it in 1967 to Dr. Philip Porch who finished 2nd in division to Cox in 1968 and '69.
In December of 1969, Porch sold the MK4 Beach to Dean Hanson in Corvallis, OR. Revisions and restoration were done and the car raced in the SCCA Oregon region in '70 and '71. Hanson says the car was fast but engine problems prevented much success. Doug Van Dyke next owned the car and raced it for six years, winning the Regional Championship in three of those years.
Early in 1983, he sold the car minus the Imp engines to Tom Ellis, well known in historic restoration circles, of Boulder, CO. Ellis installed a 1200cc Datsun engine and VW gearbox and raced it for awhile with that powerplant. At this time a Ford 1500cc engine and MK4 Hewland is about to be installed.
[Webmaster's note - this Mk4 (4-001) is currently owned by Steve Gesse in Colorado]
To be continued. Part II, the Beach MK4B, MK4B/Series II, MK4C, MK4B/SRV, MK8 GT Coupe, Grady Alfa, and the Grady Honda.
"Hugh" Kleinpeter, the author, is President of Royale Racing and Restoration Ltd, specializing in the restoring of historic Beach and Royale racing cars. His involvement as mechanic, driver, constructor, and restorer spans 39 years.
---
[Webmaster's Note - Unfortunately, Hugh died in 2002 without ever writing Part II. He passed along his notes to me and this web site is my attempt to pull together more history on Beach and Begra sports racing cars. - Nick England.]